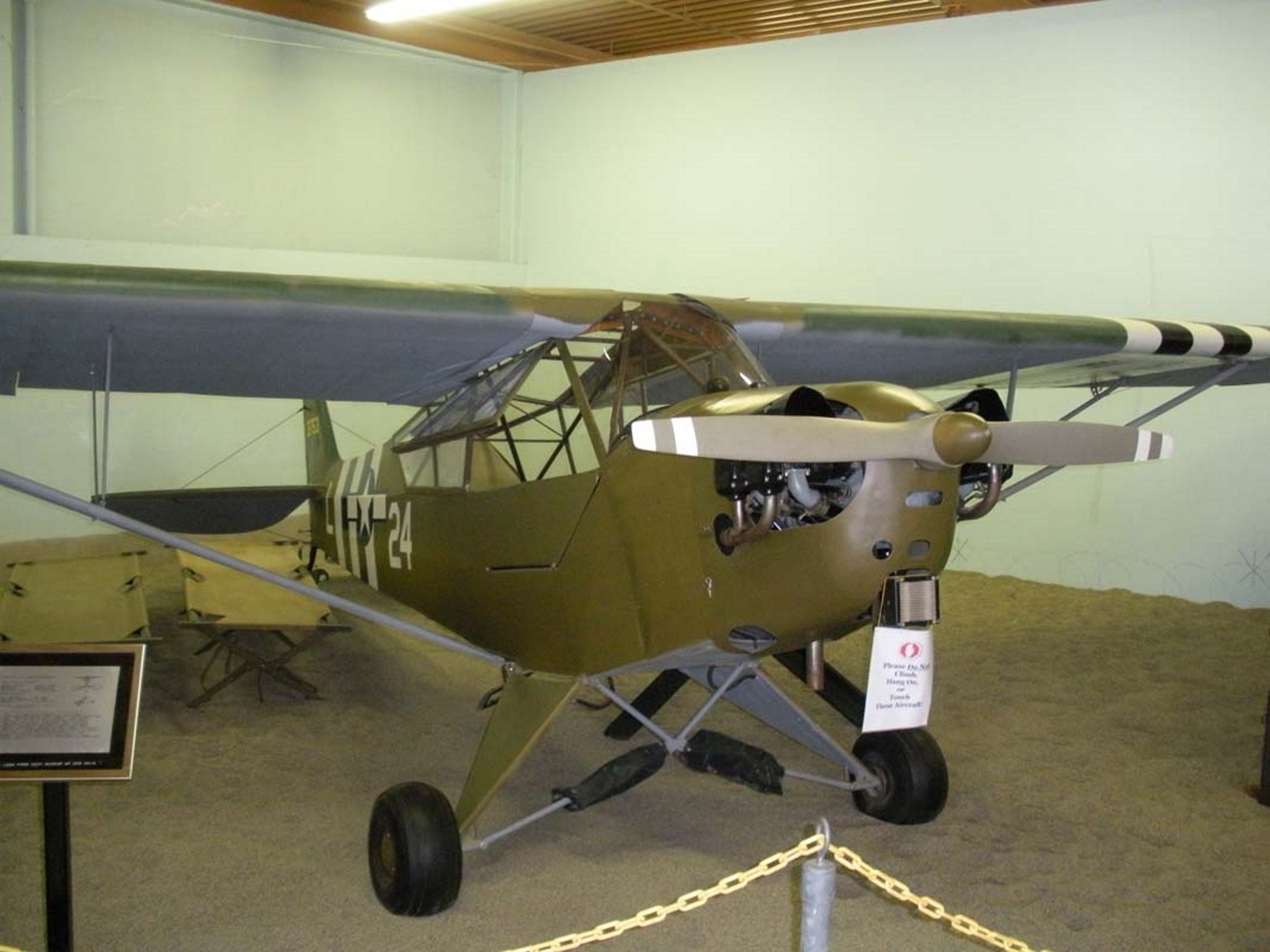 Piper L-4 Grasshopper

Zemlja
Sad
Ulogu
Trener
Prvi let
1938
Izgradio

19800+
Pajper developed a military variant ("All we had to do," Bill Jr. is quoted as saying, "was paint the Cub olive drab to produce a military airplane"), variously designated as the O-59 (1941), L-4 (after April 1942) and NE (U.S. Navy). The L-4 Grasshopper was mechanically identical to the J-3 civilian Cub, but was distinguishable by the use of a Plexiglas greenhouse skylight and rear windows for improved visibility, much like the Taylorcraft L-2 and Aeronca L-3 also in use with the US armed forces. Carrying a single pilot and no passenger, the L-4 had a top speed of 85 mph (137 km/h), a cruise speed of 75 mph (121 km/h), a service ceiling of 12,000 ft (3,658 m), a stall speed of 38 mph (61 km/h), an endurance of three hours, and a range of 225 mi (362 km). Some 5,413 L-4s were produced for U.S. forces, including 250 built for the U.S. Navy under contract as the NE-1 and NE-2.
Izvor:

Piper L-4 Grasshopper on Wikipedia
Piper L-4B Grasshopper

L-4B

As per L-4A, but without radio equipment; 980 built

Fotograf
Rendi Rej
Lokalizacija
Travis Air Force Base Museum
Fotografije
49
Wait, Searching Piper L-4 Grasshopper for you…

Srodni kompleti:
US Piper Cub L-4(0-59) Grasshopper
Bronko
1:35
Kompletan komplet
Clic za pretragu
Pronađi komplete na eBay-u:
Pretraga na eBay-u

Tražimo ono što vam treba, predlažemo vam ovo, ali vi ste ti ti koji odlučujete

...
Piper NE-1 Cub Walk Around
Fotograf
Vladimir Jakubov
Lokalizacija

Planes of Fame Air Show

Fotografije
52
Views : 3284