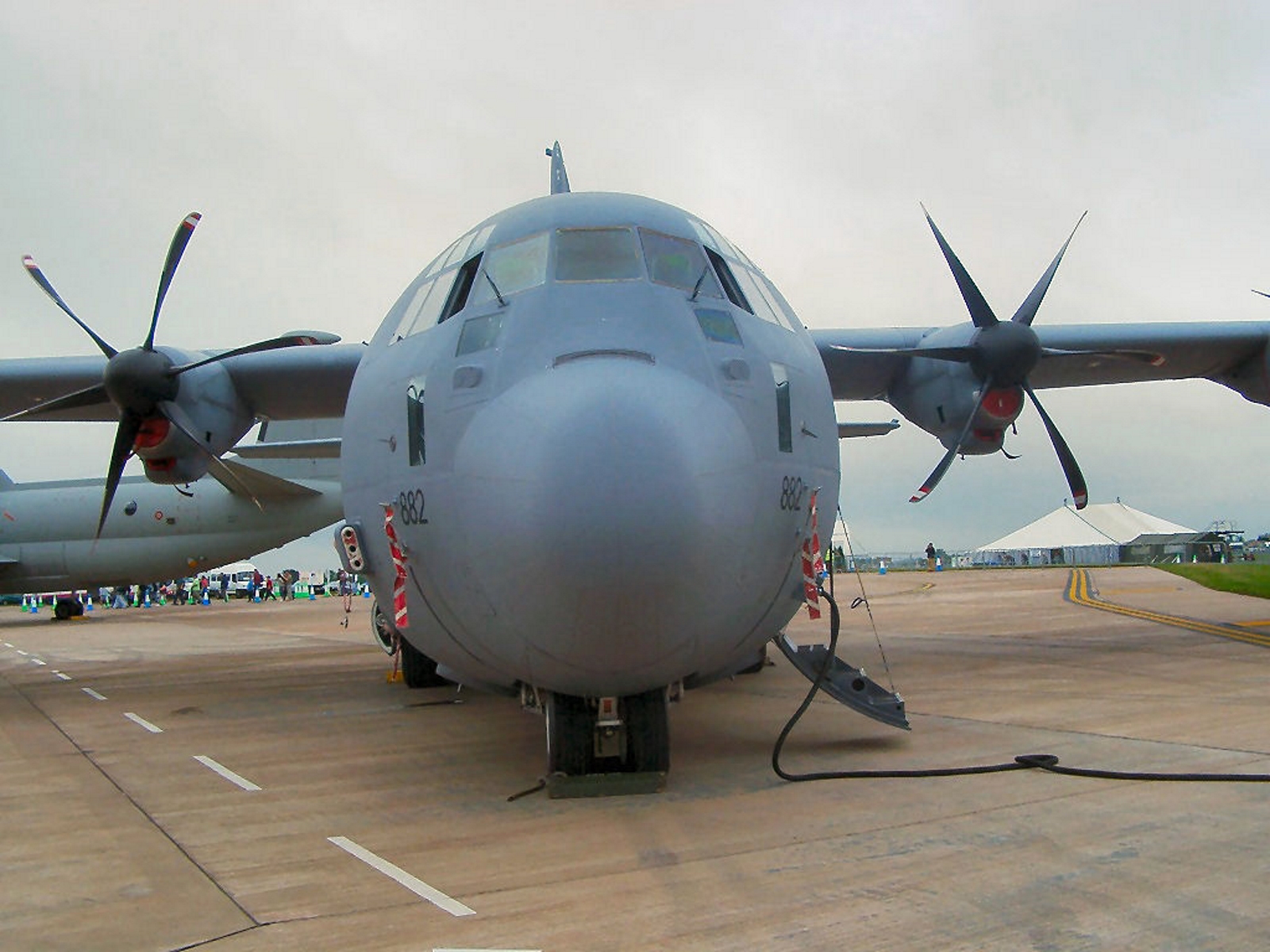 C-130J Hercules

Zemlja
Sad
Ulogu

Military transport, aerial refuelling

Prvi let

5 April 1996

Izgradio

300+
Čaj Lockheed Martin C-130J Super Hercules is a four-engine turboprop military transport aircraft. The C-130J is a comprehensive update of the Lockheed C-130 Hercules, with new engines, flight deck, and other systems. The Hercules family has the longest continuous production run of any military aircraft in history. During more than 60 years of service, the family has participated in military, civilian, and humanitarian aid operations. The Hercules has outlived several planned successor designs, most notably the Advanced Medium STOL Transport contestants. Fifteen nations have placed orders for a total of 300 C-130Js, of which 250 aircraft have been delivered as of February 2012
Izvor:

C-130J Hercules on Wikipedia
Lockheed Martin C-130J Super Hercules
Fotograf
Hauard Mejson
Lokalizacija
Nepoznato
Fotografije
34
Wait, Searching C-130J Hercules for you…

Lockheed C-130H Hercules Walk Around
Fotograf
Meindert de Vreeze
Lokalizacija
Nepoznato
Fotografije
36
Srodni kompleti:
Lockheed Martin C-130J C5 Hercules
Italeri
1:48
Kompletan komplet
Clic za pretragu
Lockheed C-130 Hercules Walk Around
Fotograf
Bill Maloney
Lokalizacija
RCAF Royal Canadian Air Force Museum
Fotografije
20
Pronađi komplete na eBay-u:
Pretraga na eBay-u
Tražimo ono što vam treba, predlažemo vam ovo, ali vi ste ti ti koji odlučujete
...
Više informacija:
The C-130J Hercules is a military transport aircraft that can perform various missions, such as airlift, airdrop, air refueling, and maritime patrol. It is an upgraded version of the C-130 Hercules, with new engines, propellers, avionics, and other systems. The C-130J has been in service since 1999 and has been delivered to 26 operators in 22 countries. The C-130J-30 is a stretched variant of the C-130J, with a longer fuselage and increased cargo capacity. It is used by several air forces, including the Royal Air Force and the Royal Australian Air Force.
The KC-130J is a tanker variant of the C-130J, capable of transferring fuel to other aircraft and carrying additional fuel tanks in the cargo bay. The SC-130J Sea Hercules is a proposed maritime patrol variant of the C-130J, equipped with a radar, weapons, and sensors for anti-submarine and anti-surface warfare. The LM-100J is a civil cargo variant of the C-130J, intended for commercial and humanitarian operations.
Views : 2127