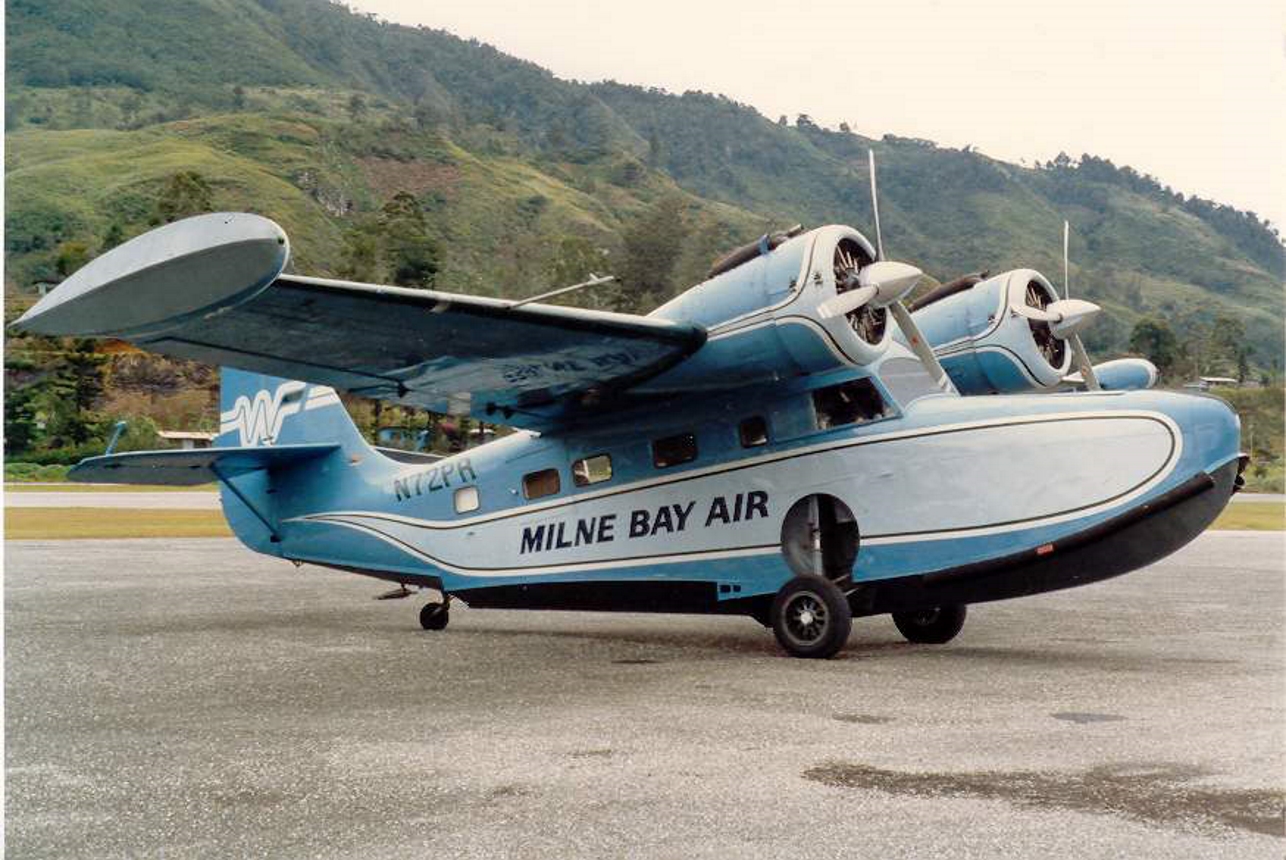 Grumman G-21 Goose

Country
USA
Role
Transport amphibious aircraft
First flight
1937
Built
345
The Grumman G-21 Goose is an amphibious flying boat designed by Grumman to serve as an eight-seat "commuter" aircraft for businessmen in the Long Island area. The Goose was Grumman's first monoplane to fly, its first twin-engined aircraft, and its first aircraft to enter commercial airline service. During World War II, the Goose became an effective transport for the US military (including the United States Coast Guard), as well as serving with many other air forces. During hostilities, the Goose took on an increasing number of combat and training roles.
Source:

Grumman G-21 Goose on Wikipedia
Grumman G-21 Goose Walk Around
Photographer
Bill Maloney
Localisation
Unknow
Photos
16
Wait, Searching Grumman G-21 Goose for you…

Find kits on eBay:
Search on eBay
Search for what you need, We suggest this but it is you who decide
Grumman Goose Walk Around
Photographer
Unknow
Localisation
Unknow
Photos
42
...
Related kits:
More info:
The Grumman G-21 Goose is a twin-engine amphibious aircraft designed by Grumman Aircraft Engineering Corporation in the late 1930s. It was originally intended as a luxury transport for wealthy businessmen, but it soon found use as a utility aircraft for various military and civilian operators. The Goose can take off and land on both water and land, making it versatile and adaptable to different environments. The Goose has a high-wing monoplane configuration with a retractable undercarriage and a hull-shaped fuselage. It can accommodate up to eight passengers or 1,200 pounds of cargo.
The Goose is powered by two Pratt & Whitney R-985 radial engines, each producing 450 horsepower. The Goose has a maximum speed of 201 miles per hour, a cruising speed of 191 miles per hour, and a range of 640 miles. The Goose was first flown on May 29, 1937, and entered service in 1938. It was used by the US Navy, Coast Guard, Army Air Forces, and Marine Corps during World War II for various roles such as air-sea rescue, anti-submarine warfare, transport, and reconnaissance. The Goose was also exported to several countries including Canada, Britain, Australia, France, and Portugal. After the war, the Goose continued to serve as a civilian airliner, charter plane, bush plane, and personal aircraft. Some Gooses were modified with turboprop engines, extended wings, or other improvements. The Goose remained in production until 1945, with a total of 345 units built. The Goose is one of the most successful and longest-serving amphibious aircraft in history.
Views : 1693