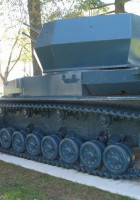 Flakpanzerkampfwagen IV

Country
Germany
Type

Anti-aircraft tank

Description

Album of

69

photos walk-around of a "flak Panzer IV"
Le Flakpanzer IV est un char antiaérien allemand de la Seconde Guerre mondiale, qui était utilisé pour protéger les unités blindées. Il a été décliné en quatre versions, Möbelwagen, Wirbelwind, Ostwind et Kugelblitz. En août 1944 est décidé le développement d'un système anti-aérien basé sur le châssis du PzKpfw IV et avec pour armement un canon 43 L/60 de 3,7 cm. Le canon placé dans une tour de six côtés pouvait effectuer une rotation de 360° et par conséquent pouvait donner une protection efficace contre les menaces aériennes. Il fut utilisé dans les unités Flugabwehrzug (pelotons antiaériens) dans les régiments Panzer.
Wait, Searching Flakpanzerkampfwagen IV for you...

Related kits:
Find kits on eBay:
Search on eBay
Search for what you need, We suggest this but it is you who decide
You can see also :
Wait, Searching Flakpanzerkampfwagen IV photos for you...

You can comment here :
Flakpanzerkampfwagen IV – Walk Around from u/PhilTheNet
Views : 1512
Find by:
flakvierling walkaround
flakvierling walk around
photos maquette m42 duster
Flakpanzerkampfwagen IV
flakpanzer iv mobelwagen
flakpanzer 341 build
panzer tracts 12-1 download
panzer tracts
panzer 1V 3 7 flakpanzer
möbelwagen walkaround
m4a1 76 walkaround
m47 vietnam foto
m42 duster units
galeria flak iv wirbelwind
Flugabwehrzug
chamber7ld
flak panzer
flak panzer 1a
flakpanzer walkaround
flakpanzer IV wal around