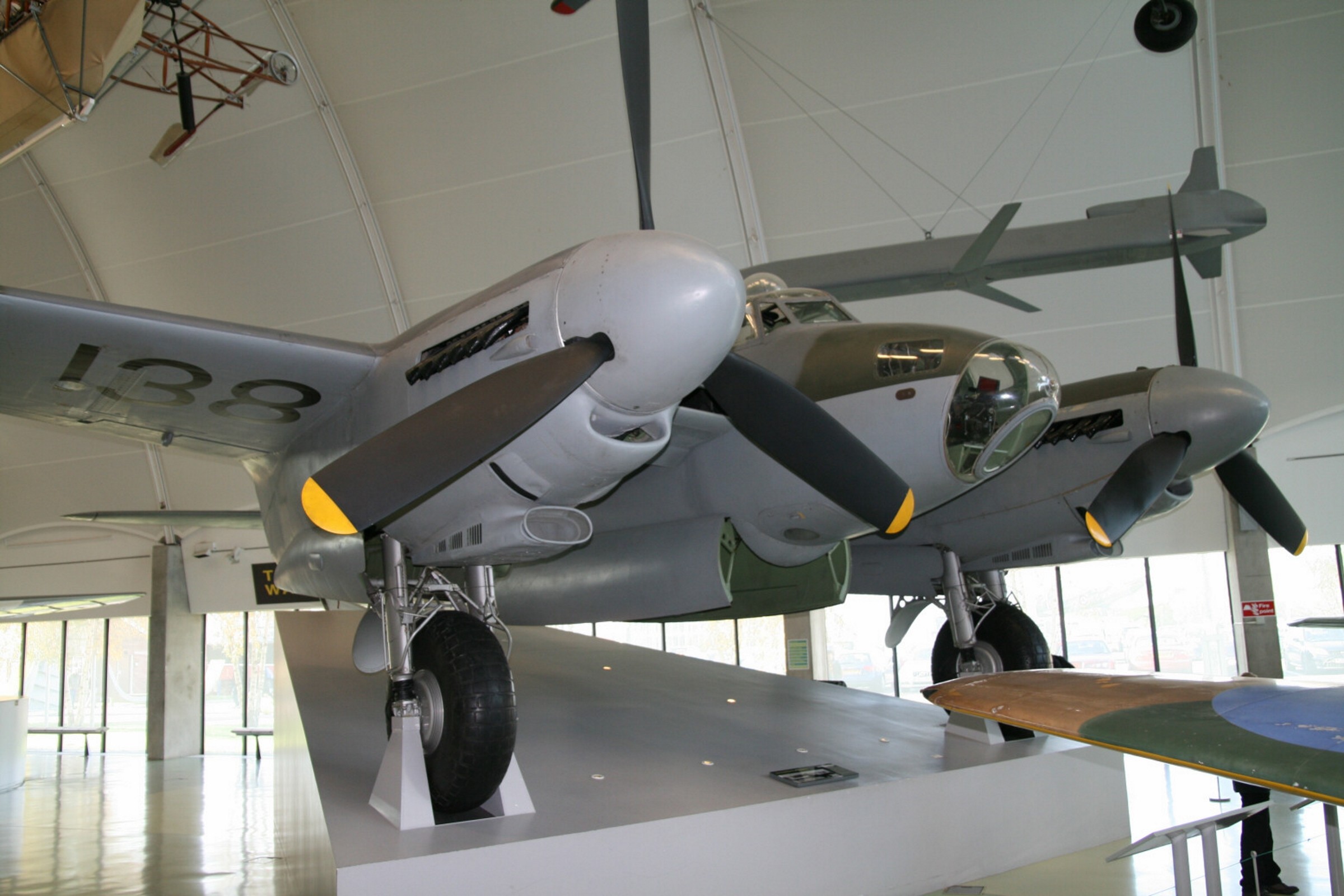 de Havilland Mosquito

Državi
Uk
Vlogo

Light bomber Fighter-bomber Night fighter

Prvi let
25. november 1940
Zgrajena
7781
V de Havilland DH.98 Komar was a British twin-engine shoulder-winged multi-role combat aircraft. The crew of two, pilot and navigator, sat side by side. It served during and after the Second World War. It was one of few operational front-line aircraft of the era constructed almost entirely of wood and was nicknamed The Wooden Wonder. The Mosquito was also known affectionately as the "Mossie" to its crews. Originally conceived as an unarmed fast bomber, the Mosquito was adapted to roles including low to medium-altitude daytime tactical bomber, high-altitude night bomber, pathfinder, day or night fighter, fighter-bomber, intruder, maritime strike aircraft, and fast photo-reconnaissance aircraft. It was also used by the British Overseas Airways Corporation (BOAC) as a fast transport to carry small high-value cargoes to, and from, neutral countries, through enemy-controlled airspace. A single passenger could ride in the aircraft's bomb bay when it was adapted for the purpose.
DeHavilland DH-98 Mosquito Walk Around
Fotograf
Vladimir Jakubov
Lokalizacijo
Narodni muzej ZDAF
Fotografije
50
Wait, Searching de Havilland Mosquito for you…

De Havilland Mosquito NF.XIX
Fotograf
Andrei Zinchuk
Lokalizacijo
Neznano
Fotografije
39
Povezani kompleti: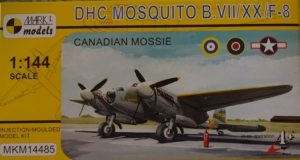 DHC Mosquito B.VII/XX/F-8 Canadian Mossie
Znamka I Modeli
1:144
Celoten komplet
Clic za iskanje
De Havilland Mosquito FB.VI
Airfix
1:24
Celoten komplet
Clic za iskanje
de Havilland Mosquito B Mk. IX/Mk. XVI
HK Modeli
1:32
Celoten komplet
Clic za iskanje
Mosquito FB.VI (T.3) Walk Around
Fotograf
Randy Malmstrom
Lokalizacijo
Neznano
Fotografije
106
Poiščite komplete na eBayu:
Iskanje na eBayu
Poiščite, kar potrebujete, predlagamo to, vendar ste vi tisti, ki se odločite
Mosquito PR.XVI (TT.35) Walk Around
Fotograf
Michael Benolkin
Lokalizacijo
Neznano
Fotografije
15
...
De Havilland Mosquito B.35 Walk Around
Fotograf
Max Otten
Lokalizacijo
Neznano
Fotografije
75
Več informacij:
The de Havilland Mosquito was a British multi-role combat aircraft that served during World War II and the postwar era. It was one of the most versatile and successful aircraft designs of the war, combining high speed, long range, and excellent performance in various roles. The Mosquito was made mostly of wood, earning it the nickname "The Wooden Wonder". It was also known as "The Timber Terror" by the Germans and "The Happy Mosquito" by its crews.
The Mosquito was conceived as a high-speed unarmed bomber that could outrun enemy fighters. It was designed by Geoffrey de Havilland and his team at the de Havilland Aircraft Company. The first prototype flew in November 1940 and entered service with the Royal Air Force (RAF) in 1941. The Mosquito proved to be a very adaptable aircraft, capable of performing missions such as bombing, reconnaissance, night fighting, fighter-bomber, anti-shipping, pathfinder, and photo mapping. It also operated with other Allied air forces, such as the United States Army Air Forces (USAAF), the Royal Canadian Air Force (RCAF), the Royal Australian Air Force (RAAF), and the Royal New Zealand Air Force (RNZAF).
The Mosquito was powered by two Rolls-Royce Merlin engines that gave it a top speed of over 400 mph (640 km/h). It had a wingspan of 54 ft 2 in (16.51 m) and a length of 41 ft 2 in (12.55 m). It could carry a bomb load of up to 4,000 lb (1,800 kg) or four 20 mm cannons and four 0.303 in (7.7 mm) machine guns in the nose. The Mosquito had a crew of two: a pilot and a navigator/bomb aimer/gunner. The Mosquito had a range of up to 1,500 mi (2,400 km) with external fuel tanks.
The Mosquito played a vital role in many operations during the war, such as the raid on Berlin in January 1943, the attack on the Gestapo headquarters in Copenhagen in March 1945, and the sinking of the German battleship Tirpitz in November 1944. The Mosquito also performed daring low-level attacks on enemy targets, such as bridges, railways, factories, and ships. The Mosquito was praised by many prominent figures, such as Winston Churchill, who called it "a beautiful aircraft", and Hermann Göring, who said that it made him "green and yellow with envy". The Mosquito was also admired by its pilots and crews, who appreciated its speed, agility, and reliability.
The Mosquito remained in service until the late 1950s, when it was replaced by jet-powered aircraft. A total of 7,781 Mosquitos were built in Britain, Canada, and Australia. Many Mosquitos were preserved or restored after the war, and some are still flying today. The Mosquito is widely regarded as one of the greatest aircraft of all time and a masterpiece of engineering and design.
Views : 4334