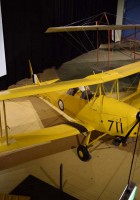 de Havilland DH.82 Tiger Zavedanje

Država
Velika britanija – Kanada
Vrsta
Trener letala
Fotografija
Vladimir Yakubov
Poiščite
RAAF Muzej, Točka Kuhar,
Opis
Album

96

fotografije sprehod okoli "de Havilland DH.82 Tiger Zaveda"
Galerija a de Havilland DH.82 Tiger Zavedanje, The de Havilland DH.82 Tiger Moth is a 1930s biplane designed by Geoffrey de Havilland and was operated by the Royal Air Force (RAF) and others as a primary trainer. The Tiger Moth remained in service with the RAF until replaced by the de Havilland Chipmunk in 1952, when many of the surplus aircraft entered civil operation. Many other nations used the Tiger Moth in both military and civil applications, and it remains in widespread use as a recreational aircraft in many countries. It is still occasionally used as a primary training aircraft, particularly for those pilots wanting to gain experience before moving on to other tailwheel aircraft. Many are now employed by various companies offering trial lesson experiences. The de Havilland Moth club founded 1975 is now an owners' association offering a mutual club and technical support.
Wait, Searching de Havilland DH.82 Tiger Moth photos for you…
Wait, Searching de Havilland DH.82 Tiger Moth for you…
Specifikacije
Vlogo
Trener letala
Proizvajalec
de Havilland Letala Družbe
Prvi polet

26 October 1931

Število zgrajena

8,868
De Havilland Tiger Moth Walk Around

Fotograf
Maxwell Williams
Lokalizacija
Neznani
Fotografije
80
Vidite lahko tudi :
Find items about "De Havilland" on AliExpress (c):
Views : 1058
Iskanje z:
DE HAVILLAND DH 82a TIGERMOTH 1:72
walk around tiger moth
tiger moth walkaround
D H 82 Tiger Moth Model Plane
tigermoth walkaround
Tiger Moth walk arround images
tiger moth militaire
firma GRI del biplano Tiger Moth
dh 82a tiger moth walk around
dh 82
walkaround DH 82C