Univerzalni Nosilec Mark II

Država
Kanada
Vrsta
Lahka oklepna gosenicami vozil
Zgrajena

113000+
Photo gallery of an Universal Carrier Mark II, The Univerzalni Nosilec, also known as the Bren Gun Carrier is a common name describing a family of light armoured tracked vehicles built by Vickers-Armstrong. Produced between 1934 and 1960, the vehicle was used widely by British Commonwealth forces during the Second World War. Universal Carriers were usually used for transporting personnel and equipment, mostly support weapons, or as machine gun platforms. With some 113,000 built in the United Kingdom and abroad, it is the most produced armoured fighting vehicle in history.
Vir: Wikipedia
Universal Carrier Mark II
Fotograf
Neznani
Lokalizacija
Neznani
Fotografije
37
Wait, Searching Universal Carrier photos for you…

Wait, Searching Universal Carrier for you…

Povezani sklopi: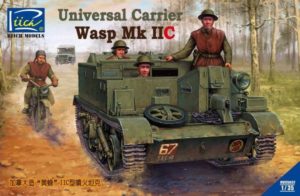 Univerzalni Nosilec Wasp Mk IIC
Riich.Modeli
RV35037
1:35
Celoten Komplet
Clic za Iskanje
Universal Carrier Mk.I 3inch Mortar Carrier Walk Around
Fotograf
Ne Alenom
Lokalizacija
Neznani
Fotografije
31
Našli kompleti na eBay:
Iskanje na eBay
Iskati tisto, kar potrebujete, priporočamo, da to, vendar to je vas, ki se odločijo,
Vidite lahko tudi :
Lahko komentar tukaj :
Univerzalni Nosilec Mark II – Sprehod Okoli iz r/NetMaquettes
Views : 3939