Support universel de la Marque II

Pays
Canada
Type
Blindés légers véhicules à chenilles
Construit

113000+
Photo gallery of an Universal Carrier Mark II, The Support Universel, also known as the Bren Gun Carrier is a common name describing a family of light armoured tracked vehicles built by Vickers-Armstrong. Produced between 1934 and 1960, the vehicle was used widely by British Commonwealth forces during the Second World War. Universal Carriers were usually used for transporting personnel and equipment, mostly support weapons, or as machine gun platforms. With some 113,000 built in the United Kingdom and abroad, it is the most produced armoured fighting vehicle in history.
Source: Wikipédia
Universal Carrier Mark II
Photographe
Unknow
Localisation
Unknow
Photos
37
Wait, Searching Universal Carrier photos for you…

Liées kits: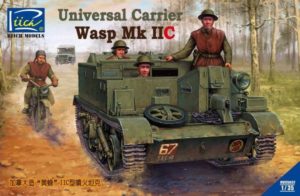 Support universel de Guêpe Mk IIC
Riich.Modèles
RV35037
1:35
Kit Complet
Clic pour la Recherche
Universal Carrier Mk.I 3inch Mortar Carrier Walk Around
Photographe
Ne Alen
Localisation
Unknow
Photos
Trente et un
Trouver des kits sur eBay:
Recherche sur eBay
À la recherche de ce dont vous avez besoin, Nous vous suggérons de cela, mais c'est vous qui décidez
Vous pouvez voir aussi :
Vues : 4260