StuG III Ausf. G

Zemlja
Nacistička Nemačka
Ulogu
Jurišni pištolj
Proizvodi
Decembar 1942 – April 1945
Izgradio
~8423
Finale i ubedljivo najčešće od
StuG
series. Upper superstructure was widened: welded boxes on either sides were abandoned. This new superstructure design increased its height to 2160 mm. The back wall of the fighting compartment got straightened, and the ventilation fan on top of the superstructure was relocated to the back of the fighting compartment. From March 1943, the driver's periscope was abandoned. In February 1943, Alkett was joined by MIAG as a second manufacturer. From May 1943, side hull spaced armour plates (Schürzen) were fitted to G models for added armour protection, particularly against Russian anti-tank rifles, but were also useful against hollow-charge ammunition. Side plates were retro-fitted to some Ausf. F/8 models, as they were to be fitted to all front line StuGs and other tanks by June 1943 in preparation for the battle of Kursk. Mountings for the Schürzen proved inadequately strong, as many were lost in the field. From March 1944, an improved mounting was introduced; as a result, side skirts are seen more often with late model Ausf G. From May 1943, 80 mm thick plates were used for frontal armour instead of two plates of 50 mm + 30 mm. However, a backlog of StuGs with completed 50 mm armour existed. For those, a 30 mm additional armour plate still had to be welded or bolted on, until October 1943.
Izvor:

StuG III Ausf. G on Wikipedia
SdKfz 142/1 Sturmgeschutz (StuG) III Walk Around

Fotograf
Vladimir Jakubov
Lokalizacija
Kolekcija Žaka Litlfilda
Fotografije
34
Wait, Searching StuG III Ausf. G photos for you…

SdKfz 142/1 Sturmgeschutz (StuG) III Ausf G Walk Around

Fotograf
Vladimir Jakubov
Lokalizacija
Latrun Armor Museum
Fotografije
107
Srodni kompleti: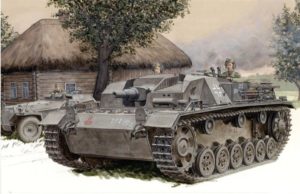 Stug.III Ausf.B
Zmaja
1:35
Kompletan komplet
Clic za pretragu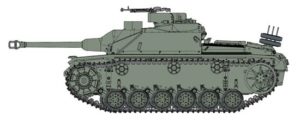 Clic za pretragu
Sturmgeschutz III Ausf. B Walk Around
Fotograf
Unknow
Lokalizacija
Nepoznato
Fotografije
16
Pronađi komplete na eBay-u:
Pretraga na eBay-u
Tražimo ono što vam treba, predlažemo vam ovo, ali vi ste ti ti koji odlučujete
...
Views : 6925