Northrop N-9MB

Zemlja
Sad
Ulogu

Flying wing Prototype

Prvi let

27 December 1942

Izgradio
4
The Northrop N-9M was an approximately one-third scale, 60-ft span all-wing aircraft used for the development of the full size, 172-ft wingspan Northrop XB-35 and YB-35 flying wing long-range, heavy bomber. First flown in 1942, the N-9M (M for Model) was the third in a lineage of all-wing Northrop aircraft designs that began in 1929 when Jack Northrop succeeded in early experiments with his single pusher propeller, twin-tailed, twin-boom, all stressed metal skin Northrop Flying Wing X-216H monoplane, and a decade later, the dual-prop N-1M of 1939–1941. Northrop's pioneering all-wing aircraft would lead Northrop-Grumman many years later to eventually develop the advanced B-2 Spirit stealth bomber, which debuted in Air Force inventory in 1989.
Izvor: Northrop N-9MB on Wikipedia
Northrop N-9MB flying wing Walk Around
Fotograf
Cees Hendriks
Lokalizacija
Nepoznato
Fotografije
19
Wait, Searching Northrop N-9MB for you…

Srodni kompleti: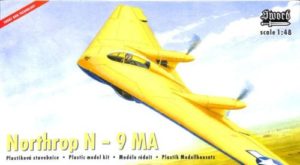 Northrop N-9 MA Plastic Aircraft Model Kit
1:48
Kompletan komplet
Clic za pretragu
Pronađi komplete na eBay-u:
Pretraga na eBay-u

Tražimo ono što vam treba, predlažemo vam ovo, ali vi ste ti ti koji odlučujete

...
Northrop N9MB Flying Wing Walk Around
Fotografi

John Heck, Vladimir Yakubov

Lokalizacija
Nepoznato
Fotografije
36
Northrop N9MB Flying Wing Walk Around
Fotograf
Vladimir Jakubov
Lokalizacija
Pacific Coast Dream Machines
Fotografije
47
Views : 936