Heinkel He 162 A Salamander

Zemlja
Nacistička Nemačka
Ulogu
Mlazni borac
Prvi let

6 December 1944

Izgradio
320
The Heinkel He 162 Volksjäger (German, "People's Fighter"), the name of a project of the Emergency Fighter Program design competition, was a German single-engine, jet-powered fighter aircraft fielded by the Luftwaffe in World War II. Designed and built quickly, and made primarily of wood as metals were in very short supply and prioritised for other aircraft, the He 162 was nevertheless the fastest of the first generation of Axis and Allied jets. Volksjäger was the Reich Air Ministry's official name for the government design program competition won by the He 162 design. Other names given to the plane include Salamander, which was the codename of its construction program, and Spatz ("Sparrow"), which was the name given to the plane by Heinkel.
Heinkel He 162 Salamander
Fotografi
Cees Hendriks
Lokalizacija
Nepoznato
Fotografije
81
Wait, Searching Heinkel He 162 A Salamander for you…

Srodni kompleti:
Heinkel He162A-2
Revell
1:32
Kompletan komplet
Clic za pretragu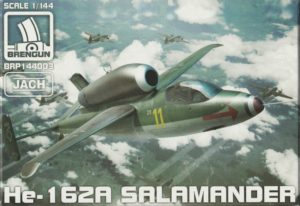 He-162A Salamander
Brengun
BRP144003
1:144
Kompletan komplet
Clic za pretragu
Heinkel HE-162 Salamander Walk Around
Fotograf
Bill Maloney
Lokalizacija
Muzej krila orlova
Fotografije
42
Pronađi komplete na eBay-u:
Pretraga na eBay-u
Tražimo ono što vam treba, predlažemo vam ovo, ali vi ste ti ti koji odlučujete
...
Heinkel He 162A-1 Volksjager Walk Around
Fotograf
Nepoznato
Lokalizacija
Nepoznato
Fotografije
31
Heinkel He162A-1 Volksjager Walk Around
Fotograf
Don Allen
Lokalizacija
Nepoznato
Fotografije
45
Heinkel HE-162 Walk Around
Fotograf
Unknow
Lokalizacija
Nepoznato
Fotografije
24
Wait, Searching Heinkel He 162 A Salamander for you…

Heinkel He-162A-2 Walk Around
Fotograf
Vojtech Peterka
Lokalizacija
Nepoznato
Fotografije
14
Views : 5125