McDonnell Douglas F/A-18 Hornet

Country
USA
Role
Multirole fighter
First flight
18 November 1978
Built
1480
The McDonnell Douglas F/A-18 Hornet is a twin-engine supersonic, all-weather carrier-capable multirole combat jet, designed as both a fighter and attack aircraft (hence the F/A designation). Designed by McDonnell Douglas (now Boeing) and Northrop, the F/A-18 was derived from the latter's YF-17 in the 1970s for use by the United States Navy and Marine Corps. The Hornet is also used by the air forces of several other nations and, since 1986, by the U.S. Navy's Flight Demonstration Squadron, the Blue Angels.
Source:

McDonnell Douglas F/A-18 Hornet on Wikipedia
McDonnell Douglas F/A-18C Hornet Walk Around
Photographer
Cees Hendriks
Localisation
Unknow
Photos
48
Wait, Searching McDonnell Douglas F/A-18 Hornet for you…

Related kits: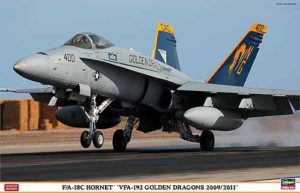 F/A-18C Hornet
Hasegawa
07326
1:48
Full kit
Clic for Search
F-18C Walk Around
Photographer
Brian Ludden
Localisation
Unknow
Photos
41
Find kits on eBay:
Search on eBay
Search for what you need, We suggest this but it is you who decide
McDonnell Douglas CF-118 Hornet Walk Around
Photographer
Bill Maloney
Localisation
RCAF Royal Canadian Air Force Museum
Photos
17
...
McDonnell Douglas FA-18A 'Hornet' Walk Around
Photographer
Unknow
Localisation
Unknow
Photos
25
Wait, Searching McDonnell Douglas F/A-18 Hornet for you…

Views : 3271