M7B2 Priest

Country
USA
Type

Self-propelled gun
Officially designated under the name of 105mm Howitzer Motor Carriage M7, the M7 Priest is a self-propelled gun produced during the Second world War by the United States. Priest is the nickname given by the British, due to the fact that the machine gun placed on a rail gave the impression that the tank was equipped with a chair. It was as a result of the Bishop English and they referred to him formally 105mm SP Priest.
Source: M7 Priest on Wikipedia
Technical characteristics : Équipage : 7 Longueur : 6,02 m Largeur : 2,87 m Hauteur : 2,95 m Masse au combat : 22 970 kg Blindage : coque:51 mm avant Armement principal : Howitzer 105 mm M2A1 (69 obus) Armement secondaire : 1 Mitrailleuse Browning M2 de 12,7 mm (300 balles) Moteur : Wright (Continental) R975 C1 400 ch (299 kW) Suspension : ressorts verticaux en spirales Vitesse sur route : 40 km/h (24 en tout terrain) Puissance massique : 17,4 ch/tonne Autonomie : 193 km
Wait, Searching M7B2 Priest for you...

Wait, Searching M7B2 Priest photos for you...

Related kits: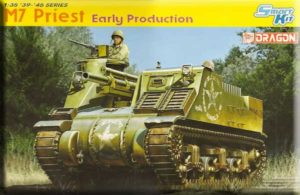 M7 Priest Early Production
Dragon
6627
1:35
Full kit
Clic for Search
Find kits on eBay:
Search on eBay
Search for what you need, We suggest this but it is you who decide
You can see also :
You can comment here :
M7B2 Priest – Walkround from r/NetMaquettes
Views : 1013
Find by:
m7b2 spg
m7b2プリースト
OBUS m7 priest 1/35
fotografias de un sacerdote la segunda guerra mundial
m7b2プリースト
korean war m7b2
tanque m7 hmc priest 1/35 revell
m7priest squrdron
model of priest 105
m7b2 priest 105mm walk around
m7b2 priest 1/35
m7 priest tank seat
m7 105 mm hmc priest images
m-7 priest de 21st centurytoys a 1:32
m 7 priest 1/32 21st century
m 7 priest 1/32
howitzer automoteurs corean photo
fotos hmc priest altaya
塞克斯顿 spg
artilleria autopropulsada m7 sgm