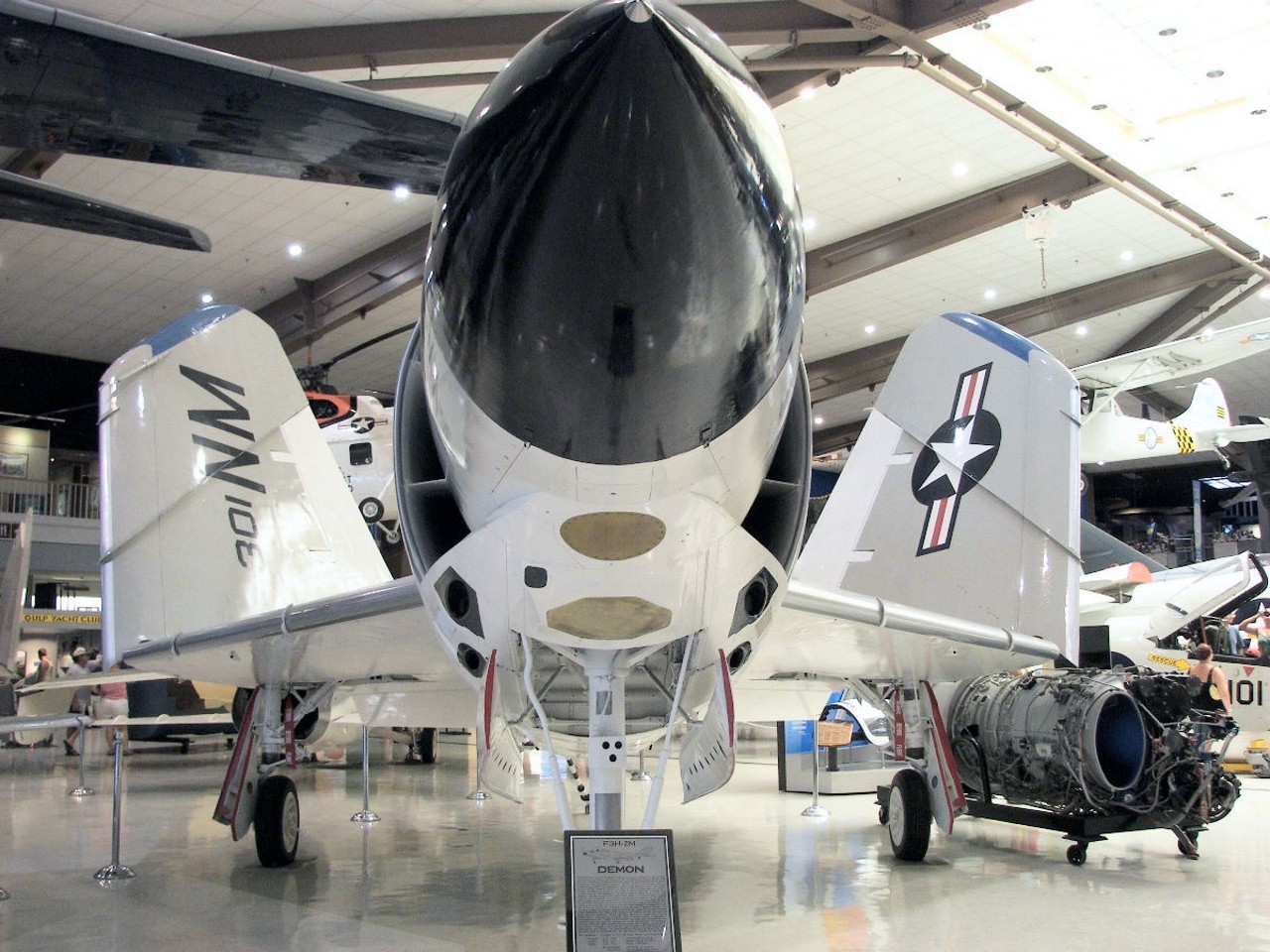 McDonnell F3H Demon

Country
USA
Role
Carrier-based fighter aircraft
First flight
7 August 1951
Built
519
The McDonnell F3H Demon was a subsonic swept-wing United States Navy carrier-based jet fighter aircraft. The successor to the F2H Banshee, the Demon was redesigned with the J71 engine after severe problems with the Westinghouse J40 engine that was part of the original design but ultimately abandoned. Though it lacked sufficient power for supersonic performance, it complemented daylight dogfighters such as the Vought F8U Crusader and Grumman F11F Tiger as an all-weather, missile-armed interceptor until 1964.
Source:

McDonnell F3H Demon on Wikipedia
McDonnell F3H-2M Demon Walk Around
Photographer
Cees Hendriks
Localisation
Unknow
Photos
47
Wait, Searching McDonnell F3H Demon for you…

Related kits:
F3H Demon F3H-2 (F-3B)
EMHAR
EM3001
1:72
Full kit
Clic for Search
F3H-2M Demon Walk Around
Photographer
Mike Fortin
Localisation
Unknow
Photos
58
Find kits on eBay:
Search on eBay
Search for what you need, We suggest this but it is you who decide
McDonnell F3H-2N (F-3B) Demon Walk Around
Photographer
Weichao Chen
Localisation
Unknow
Photos
22
...
More info:
The McDonnell F3H Demon was a carrier-based jet fighter aircraft developed by the McDonnell Aircraft Corporation for the United States Navy in the 1950s. It was the first jet fighter in the Navy to have an afterburning engine and a radar fire-control system. The Demon was designed as an all-weather interceptor and fighter-bomber, capable of carrying air-to-air missiles, rockets, bombs, and nuclear weapons. The Demon had a swept-wing design with a single tail and a nose-mounted intake. It was powered by a Westinghouse J40 turbojet engine, which proved to be unreliable and underpowered, causing many accidents and limiting the performance of the aircraft. The Demon was later upgraded with a more powerful Allison J71 engine, which improved its speed and range, but not enough to compete with newer fighters. The Demon was eventually replaced by the McDonnell Douglas F-4 Phantom II in the 1960s.
Views : 4332