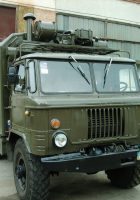 GAZ-66

Land
Sowjetunion
Thema
4×4-Militär-LKW
Produziert
Unknow
Gebaut
Unknow
Die GAZ-66 is a Soviet and later Russian 4×4 all-road (off-road) military truck produced by GAZ. It was one of the main cargo vehicles for motorized infantry of the Soviet Army and is still employed in former Soviet Union countries. It is nicknamed shishiga (шишига) shehsherik (шешерик) trueman (in Siberia). The GAZ-66 has gained legendary status in many countries around the world due to its reliability, simplicity and off-road capability. Thanks to standard features, such as a front-mounted winch, Central Tire Inflation System (CTIS) and self-locking differentials, the GAZ-66 is extremely popular worldwide with armed forces and off-road enthusiasts. Production ceased in 1999, with the GAZ-3308 being produced instead.
Quelle: GAZ-66 auf Wikipedia
Warten Sie, Suchen GAZ-66 Fotos für Sie...

ГАЗ-66 ПРХМ-1М herumlaufen
Fotograf
Unknow
Lokalisierung
Unknow
Fotos
Neun und dreißig
Warten Sie, Suchen GAZ-66 für Sie...

Verwandte kits:
Russian GAZ-66 Light Truck II
Trompeter
01017
1:35
Full kit
Clic für die Suche
Finden kits auf eBay:
Suche auf eBay
Suche für das, was Sie benötigen, Wir empfehlen dies, aber es ist Ihr, die entscheiden
You can see also :
GAZ-66 – Spaziergang Rund um aus NetMaquettes
Aufrufe : 1762
Find by:
A58E
gaz 66 restauration
GaZ66 satin almaq isteyirem
qaz 66 almaq isteyirem