Douglas A-26 Invader

Land
Vereinigte Staaten
Geben
Kampfflugzeuge
Erstflug
10. Juli 1942
Gebaut
2452
Foto-Galerie Douglas A-26 Invader, The Douglas A-26 Invader (designated B-26 between 1948 and 1965) is a twin-engined light bomber and ground attack aircraft that was built by Douglas Aircraft Company during World War II which also saw service during several major Cold War conflicts. A limited number of highly modified United States Air Force aircraft served in Southeast Asia until 1969. It was a fast aircraft capable of carrying twice its specified bomb load. A range of guns could be fitted to produce a formidable ground-attack aircraft.[4] A re-designation of the type from A-26 to B-26 led to confusion with the Martin B-26 Marauder, which first flew in November 1940, about 16 months before the Douglas design's maiden flight. Although both types were powered by the widely used Pratt & Whitney R-2800 Double Wasp eighteen-cylinder, double-row radial engine, they were completely different and separate designs — the Martin bomber originated in 1939, with roughly twice as many Marauders (nearly 5,300) produced in comparison to the Douglas design.
Warte, Suche Douglas A-26 Invader-Fotos für Sie...
Douglas A-26 Invader
Fotograf
Vladimir Yakubov
Lokalisierung
Unknow
Fotos
72
Warte, Suche Douglas A-26 Invader für Sie...
Douglas A-26C Invader
Foto
Vladimir Yakubov
Suchen
Das Palm Springs Air Museum, Palm Springs
Beschreibung
Album

170

Fotos walk-around von einer «Douglas A-26C Invader»
Role : ground attack & light bomber Manufacturer : Douglas Aircraft Company First flight : 10 July 1942 Retired : 1980 Colombian Air Force Primary users : -United States Army Air Forces -United States Air Force -United States Navy -French Air Force Number built : 2.452
Douglas A-26C Invader Walk Around
Fotograf
Cees Hendriks
Lokalisierung
Unknow
Fotos
91
Douglas A-26C Invader Walk Around
Fotograf
Cees Hendriks
Lokalisierung
Unknow
Fotos
50
Verwandte kits: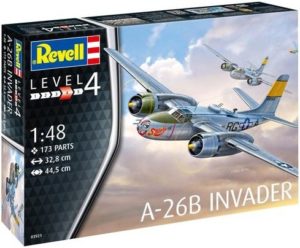 A-26B Invader
Revell
03921
1:48
Full kit
Clic für die Suche
Finden kits auf eBay:
Suche auf eBay
Suche für das, was Sie benötigen, Wir empfehlen dies, aber es ist Ihr, die entscheiden
You can see also :
Douglas A-26B Invader Walk Around
Fotograf
Meindert de Vreeze
Lokalisierung
Unknow
Fotos
24
Douglas A-26 Invader – WalkAround aus NetMaquettes
Views : 26360
Find by:
Douglas A-26B Invader
Douglas B-26 walkaround
A 26 B
а-26 invader
SGRX
prebuilt A-26 model airplane
Pratt & whitney R-2800 flickr
f4d skyray foam r/c model
Douglas A-26 Invader
douglas a 26 invader
A-26K invader VIETNAM
ダグラスA26インベーダー