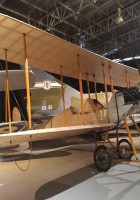 Royal Fly Fabrik BE2A

Land
UK
Type
Biplan fly
Foto
Vladimir Yakubov
Sted
RAAF Museum, Punkt Cook, Australien
Emne

Album

53

fotos walk-around af en "Royal Fly Fabrik BE2A"
Foto galleri af en Royal Fly Fabrik BE2A, The Royal Aircraft Factory B.E.2 was a British single-engine tractor two-seat biplane which was in service with the Royal Flying Corps (RFC) from 1912 until the end of World War I. About 3,500 were built. Initially used as front-line reconnaissance aircraft and light bombers; variants of the type were also used as night fighters. Like many warplanes since, the B.E.2 was retained in front-line service long after it had become obsolete, for want of a suitable replacement. After its belated withdrawal it finally served as a trainer, communications aircraft and on anti-submarine coastal patrol duties.
Vent, SearchingRoyal Fly Fabrik BE2A billeder til dig...
Vent, Søger Royal Fly Fabrik BE2A for dig...
Relaterede kits:
Finde kits på eBay:
Søg på eBay
Søg efter hvad du har brug for, Vi foreslår dette, men det er dig der bestemmer
Du kan også se :
Views : 892
At finde ud af:
第一次大戦 航空機製造
nowy najwiekszy brytyjski samolot