North American F-100 Super Sabre

Land
USA
Rolle
Supersoniske jet fighter fly
Første flyvning

25 May 1953

Indbygget

2294
Den North American F-100 Super Sabre was an American supersonic jet fighter aircraft that served with the United States Air Force (USAF) from 1954 to 1971 and with the Air National Guard (ANG) until 1979. The first of the Century Series of USAF jet fighters, it was the first USAF fighter capable of supersonic speed in level flight. The F-100 was designed by North American Aviation as a higher performance follow-on to the F-86 Sabre air superiority fighter.
Wait, Searching North American F-100 Super Sabre photos for you…
North American F-100 Super Sabre
Fotograf
Vladimir Yakubov
Lokalisering
Palm Springs Air Museum
Fotos
155
Wait, Searching North American F-100 Super Sabret for you…
Relaterede kits: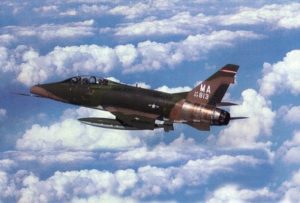 F-100F Super Sabre
Trompetisten
1:32
Den fulde pakke
Klik her for at Søge
Finde kits på eBay:
Søg på eBay
Søg efter hvad du har brug for, Vi foreslår dette, men det er dig der bestemmer
Du kan også se :
North American F-100D Super Sabre Walk Around
Fotograf
Vladimir Yakubov
Lokalisering
Unknow
Fotos
137
North American F-100C-25 Super Sabre Walk Around
Fotograf
Cees Hendriks
Lokalisering
Unknow
Fotos
31
F-100D Super Sabre (various) Walk Around
Fotografer
Cees Hendriks, Meindert de Vreeze
Lokalisering
Unknow
Fotos
96
North American F-100 Super Sabre WalkAround fra NetMaquettes
Visninger : 6940
At finde ud af:
ltd TEL 86 769 E-mail [email protected] ca
f 100d walkaround
F-100D walkaround
f 100c walkaround images
f100 airplane vietnam
f100 sabre
North American QF-100
trumpeter 02246