North American F-100 Super Sabre

Zemlja
Sad
Ulogu

Supersonic jet fighter aircraft

Prvi let

25 May 1953

Izgradio

2294
The North American F-100 Super Sabre was an American supersonic jet fighter aircraft that served with the United States Air Force (USAF) from 1954 to 1971 and with the Air National Guard (ANG) until 1979. The first of the Century Series of USAF jet fighters, it was the first USAF fighter capable of supersonic speed in level flight. The F-100 was designed by North American Aviation as a higher performance follow-on to the F-86 Sabre air superiority fighter.
North American F-100 Super Sabre
Fotograf
Vladimir Jakubov
Lokalizacija

Palm Springs Air Museum

Fotografije

155
Wait, Searching North American F-100 Super Sabre photos for you…

Srodni kompleti: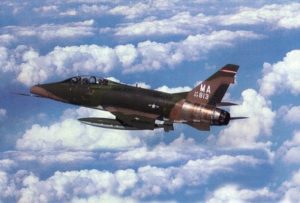 Clic za pretragu
Pronađi komplete na eBay-u:
Pretraga na eBay-u
Tražimo ono što vam treba, predlažemo vam ovo, ali vi ste ti ti koji odlučujete
Možete videti i :
North American F-100D Super Sabre Walk Around
Fotograf
Vladimir Jakubov
Lokalizacija
Nepoznato
Fotografije

137
North American F-100C-25 Super Sabre Walk Around
Fotograf
Cees Hendriks
Lokalizacija
Nepoznato
Fotografije

31
F-100D Super Sabre (various) Walk Around
Fotografi

Cees Hendriks, Meindert de Vreeze

Lokalizacija
Nepoznato
Fotografije
96
North American F-100A Super Sabre Walk Around
Fotograf

Bill Maloney

Lokalizacija

New England Air Museum

Fotografije
16
Views : 9092