North American F-100 Super Sabre

Država
ZDA
Vlogo
Nadzvočno borec jet letalo
Prvi polet

25 May 1953

Zgrajena

2294
V North American F-100 Super Sabre was an American supersonic jet fighter aircraft that served with the United States Air Force (USAF) from 1954 to 1971 and with the Air National Guard (ANG) until 1979. The first of the Century Series of USAF jet fighters, it was the first USAF fighter capable of supersonic speed in level flight. The F-100 was designed by North American Aviation as a higher performance follow-on to the F-86 Sabre air superiority fighter.
Wait, Searching North American F-100 Super Sabre photos for you…
North American F-100 Super Sabre
Fotograf
Vladimir Yakubov
Lokalizacija
Palm Springs, Letalski Muzej
Fotografije
155
Wait, Searching North American F-100 Super Sabret for you…
Povezani sklopi: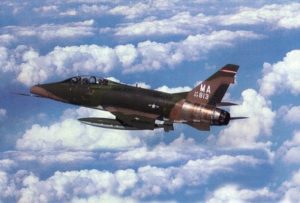 F-100F Super Sabre
Prvi trobentač deloval
1:32
Celoten komplet
Clic za Iskanje
Našli kompleti na eBay:
Iskanje na eBay
Iskati tisto, kar potrebujete, priporočamo, da to, vendar to je vas, ki se odločijo,
Vidite lahko tudi :
North American F-100D Super Sabre Walk Around
Fotograf
Vladimir Yakubov
Lokalizacija
Neznani
Fotografije
137
North American F-100C-25 Super Sabre Walk Around
Fotograf
Cees Hendriks
Lokalizacija
Neznani
Fotografije
31
F-100D Super Sabre (various) Walk Around
Fotografi
Cees Hendriks, Meindert de Vreeze
Lokalizacija
Neznani
Fotografije
96
North American F-100 Super Sabre – WalkAround iz NetMaquettes
Views : 6947
Iskanje z:
ltd TEL 86 769 E-mail [email protected] ca
f 100d walkaround
F-100D walkaround
f 100c walkaround images
f100 airplane vietnam
f100 sabre
North American QF-100
trumpeter 02246