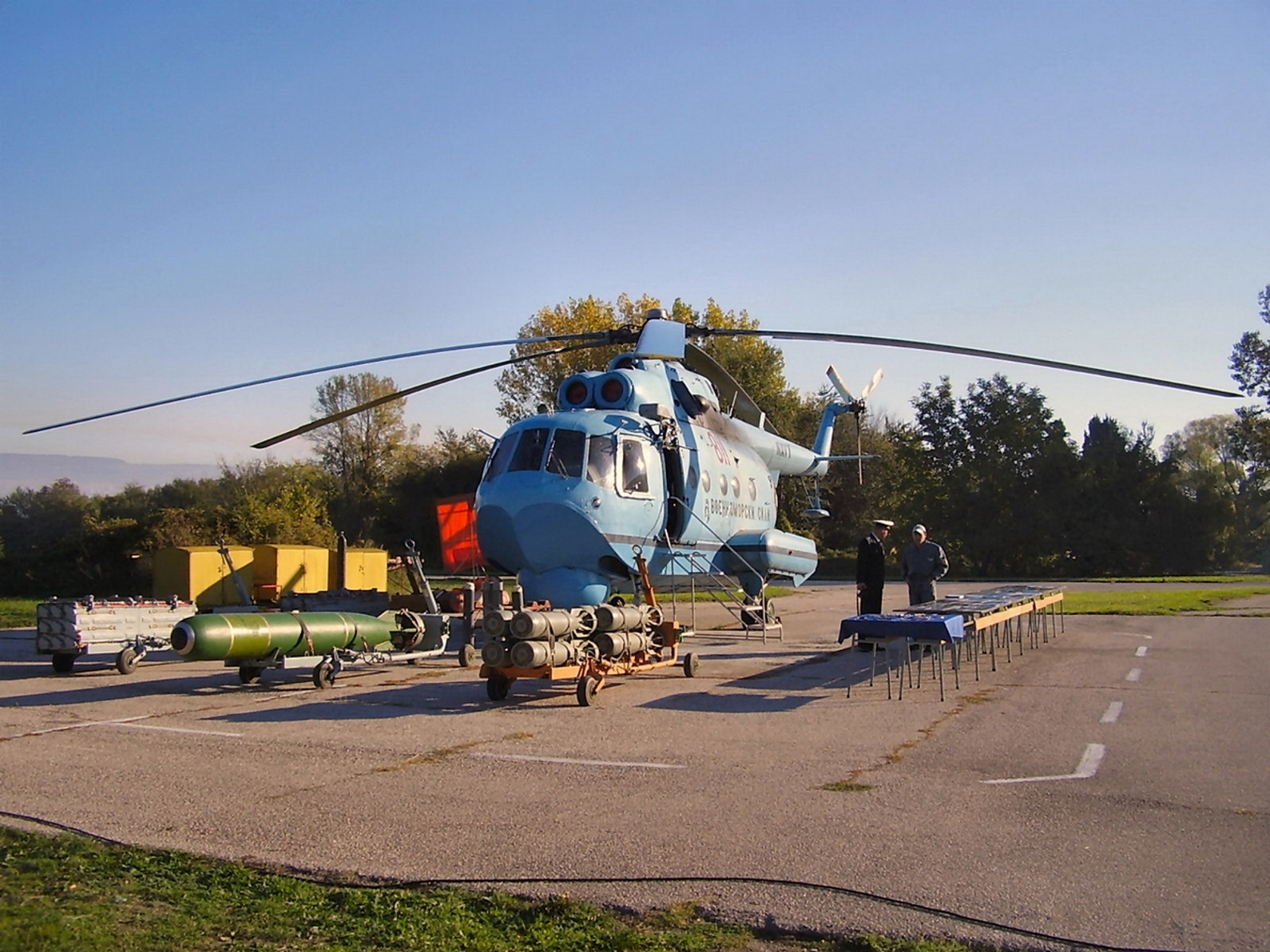 Mil Mi-14

Zemlja
Sovjetski Savez
Ulogu
Helikopter protiv podmornice
Prvi let
Septembar 1969
Izgradio
230
Čaj Mil Mi-14 (Ruski: Миль Ми-14, IME ZA IZVEŠTAVANJE NATO-a: Haze) je sovjetski amfibijski protiv-podmornički helikopter na obali izveden iz ranijeg Mi-8.
Izvor: Mil Mi-14 na Vikipediji
Mil Mi-14BT Haze Walk Around
Fotograf
Nikolaj Zlatev
Lokalizacija
Nepoznato
Fotografije
40
Wait, Searching Mil Mi-14 for you...

Srodni kompleti:
Mi-14PL, Mi-14PS, Mi-14PL/R
Mariusz Kalinowski
14
96 strana
Knjigu
Clic za pretragu
Pronađi komplete na eBay-u:
Pretraga na eBay-u
Tražimo ono što vam treba, predlažemo vam ovo, ali vi ste ti ti koji odlučujete
...
Više informacija:
The Mil Mi-1 was a pioneering helicopter design that marked the beginning of the Soviet rotary-winged aviation. It was a versatile and reliable machine that served in various roles, both civilian and military, for many years. The Mil Mi-1 was powered by a single Ivchenko AI-26V radial piston engine that delivered 575 hp and drove a three-bladed main rotor. The helicopter had a metal fuselage and a fixed tricycle landing gear. It could accommodate up to four people, including the pilot, in a single cabin.
The Mil Mi-1 made its first flight on September 20, 1948, and entered service in 1950. It was the first Soviet helicopter to enter serial production, and more than 2,500 units were built in the USSR and Poland. The Mil Mi-1 was exported to several countries, including China, Czechoslovakia, Egypt, Hungary, India, Indonesia, Mongolia, North Korea, Romania, Syria, Vietnam and Yugoslavia. It was also used by Aeroflot, the Soviet national airline, for passenger transport, mail delivery and aerial work.
The Mil Mi-1 was developed into several variants, such as the Mi-1T for personnel transport, the Mi-1KR for reconnaissance, the Mi-1NKh for multipurpose use, the Mi-1A for improved reliability, the Mi-1U for training and the Mi-1M for civil use with an enlarged cabin. The Mil Mi-1 was also modified to carry weapons, such as rockets and anti-tank missiles, but these experiments were not successful. The Mil Mi-1 was eventually replaced by more advanced helicopters, such as the Mil Mi-2 and the Mil Mi-4, but some of them remained in service until the 1990s.
Views : 1298