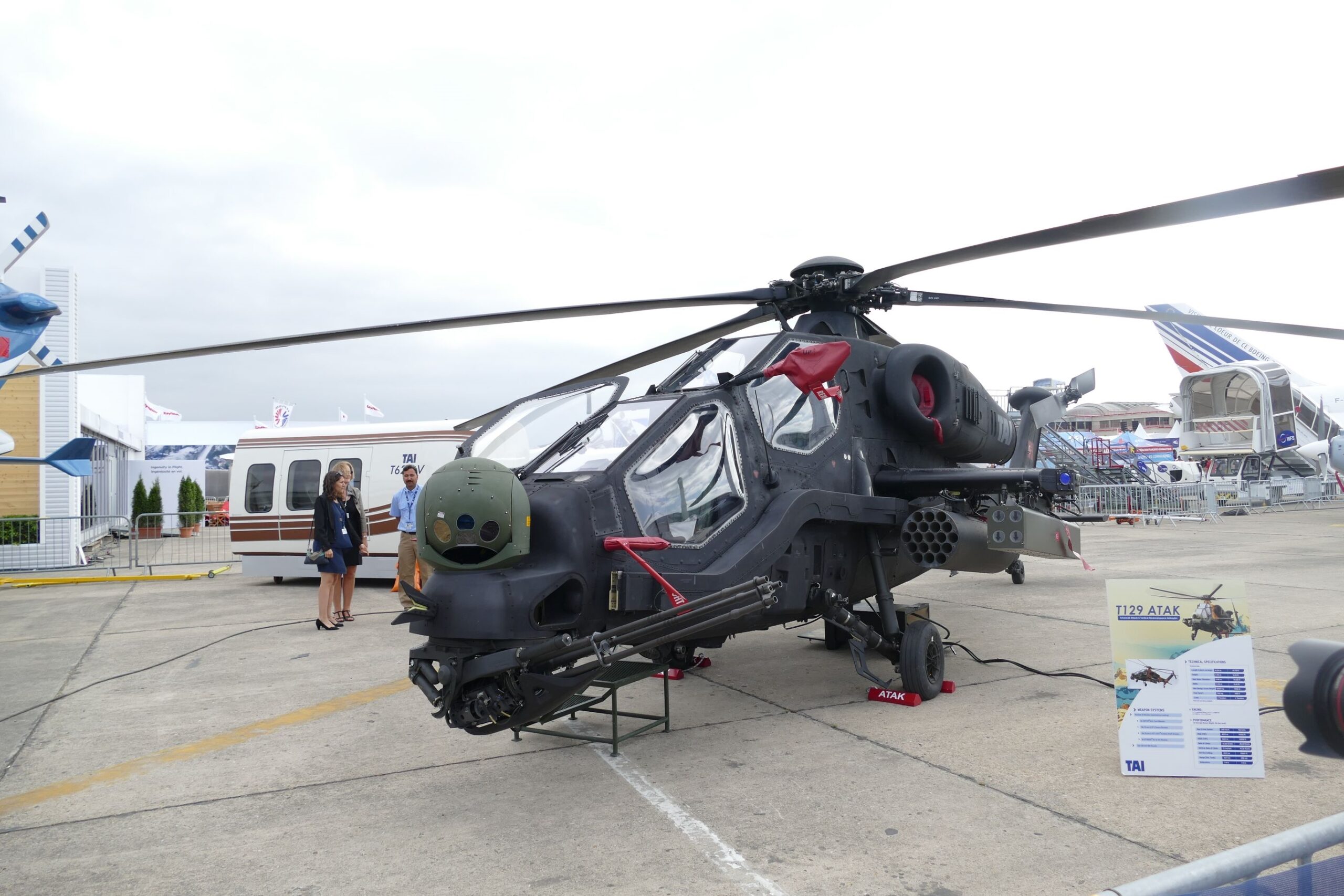 TAI/AgustaWestland T129 ATAK

Zemlja
Turkey & Italia
Ulogu
Napadački helikopter
Prvi let
28 septembar 2009
Izgradio
75+
Čaj TAI/AgustaWestland T129 ATAK is a twin-engine, tandem seat, multi-role, all-weather attack helicopter based on the Agusta A129 Mangusta platform. The T129 was developed by Turkish Aerospace Industries (TAI) with partner AgustaWestland. The helicopter is designed for advanced attack and reconnaissance missions in hot and high environments and rough geography in both day and night conditions. The ATAK programme was begun to meet the Turkish Armed Forces' requirements for an attack and tactical reconnaissance helicopter. The T129 is the result of the integration of Turkish-developed avionics, airframe modifications, and weapon systems onto the AgustaWestland A129 airframe, with upgraded engines, transmission and rotor blades. It is in use by the Turkish Army and other services including the Turkish Gendarmerie.
T-129 Atak Walk Around
Fotograf
Čadi Rašid
Lokalizacija
Nepoznato
Fotografije
67
Wait, Searching AgustaWestland T129 for you...

Srodni kompleti:
TAI T-129 Atak Walk Around
Fotograf
Nepoznato
Lokalizacija
Nepoznato
Fotografije
22
Pronađi komplete na eBay-u:
Pretraga na eBay-u
Tražimo ono što vam treba, predlažemo vam ovo, ali vi ste ti ti koji odlučujete
...
Čekaj, pretražujem helikopter srednjeg lifta za tebe...

Više informacija:
The TAI/AgustaWestland T129 ATAK is a modern attack helicopter that was jointly developed by Turkey and Italy. It is based on the Agusta A129 Mangusta platform, but with significant improvements in terms of avionics, weapons, performance and survivability. The T129 can perform armed reconnaissance and attack missions in various weather conditions and terrain types, both day and night.
It has a tandem cockpit for two pilots, a five-blade main rotor and a four-blade tail rotor. It is powered by two LHTEC CTS800-4N turboshaft engines that provide high power and reliability. The T129 can carry a variety of weapons, including rockets, missiles, cannons and machine guns. It can also integrate with Turkish-made systems such as MILDAR millimeter wave radar and UMTAS anti-tank missiles. The T129 has been in service with the Turkish Army since 2014, and has also been exported to other countries such as Pakistan and the Philippines.
Views : 352