Fennek

Zemlja

Germany – Netherlands

Ulogu
Lako oklopno izviđačko vozilo
U službi
2003–present
Operativnirange

860km
Čaj Fennek, named after the fennec (a species of small desert fox), or LGS Fennek, with LGS being short for Leichter Gepanzerter Spähwagen in German (Light Armoured Reconnaissance Vehicle), is a four-wheeled armed reconnaissance vehicle produced by the German company Krauss-Maffei Wegmann and Dutch Defence Vehicle Systems. The Turkish company FNSS Defence Systems acquired the right for licence production in 2004. It was developed for both the German Army and Royal Netherlands Army to replace their current vehicles.
Izvor: Fennek na Vikipediji
Fennek Walk Around
Fotograf
Marsel Bouman
Lokalizacija
Nepoznato
Fotografije
37
Wait, Searching Fennek for you…

Srodni kompleti:
Modern German Fennek LGS-Dutch Version Detail Parts
Voyager Model
PE35674
1:35
Skup detalja
Clic za pretragu
Fennek komplet dodatne opreme za holandske verzije
Crni pas
T35186
1:35
Skup detalja
Clic za pretragu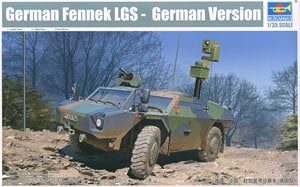 German Fennek LGS - German Version
Trubaи
05534
1:35
Kompletan komplet
Clic za pretragu
Pronađi komplete na eBay-u:
Pretraga na eBay-u
Tražimo ono što vam treba, predlažemo vam ovo, ali vi ste ti ti koji odlučujete
...
Više informacija:
The Fennek Light armored reconnaissance vehicle is a four-wheeled, all-terrain vehicle designed for reconnaissance and surveillance missions. It is manufactured by Krauss-Maffei Wegmann (KMW) and Rheinmetall Landsysteme (RLS) in Germany, and by Van Halteren Defence in the Netherlands. The Fennek has a crew of three: a driver, a gunner and a commander. The vehicle is equipped with a 12.7 mm machine gun or a 40 mm automatic grenade launcher, as well as a variety of sensors and communication systems. The Fennek can operate in day and night conditions, and has a high level of protection against mines, improvised explosive devices (IEDs) and small arms fire. The Fennek has been in service with the German Army since 2003, and with the Royal Netherlands Army since 2004. It has also been exported to Qatar and the United Arab Emirates. The Fennek is considered to be one of the most advanced and versatile light armored reconnaissance vehicles in the world.
Views : 2321