YPR 765

Zemlja
Sad
Ulogu
Pešadijsko borbeno vozilo
Varijante
Holandski
Ratova
Jugoslovenski ratovi, anti-gerilske operacije na Filipinima, rat u Avganistanu
The AIFV (Armored Infantry Fighting Vehicle) is a tracked light armored vehicle that serves as an infantry fighting vehicle (IFV) in the armies of several countries. It is a development of the M113A1 armored personnel carrier. While the US was uninterested in the design, a number of other governments were interested in the vehicle, which was simpler, lighter, and cheaper than the Bradley. After a series of demonstrations and the delivery of four evaluation vehicles in 1974, the Netherlands government placed an order for 880 of the vehicles in 1975, which were designated YPR-765 kada su ušli u službu. Neke promene su izvršene na zahtev holandske vlade, uključujući prebacivanje stanice oružja na desnu stranu i premeštanje komandanta iza vozača. Holandija je naručila 2.079, od čega je 815 proizvedeno lokalno pod licencom. Prema programu YPR-2000, praktično sva holandska vozila su unapređena na YPR-765A1 standard i lako se identifikuju po 3-tonom NATO kamuflažnom obrascu[potrebno je pojašnjenje]. Tokom rata u Avganistanu, nekoliko vozila bilo je opremljeno dodatnim oklopom.
Izvor:

YPR 765 na Vikipediji
YPR 765 Walk Around
Fotograf
Marsel Bouman
Lokalizacija
Nepoznato
Fotografije
34
Wait, Searching YPR 765 for you...

Srodni kompleti: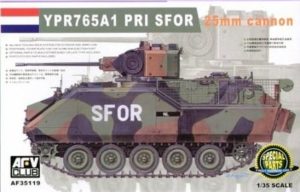 YPR765A1 PRI SFOR 25mm top
AFV Klub
AF35119
1:35
Kompletan komplet
Clic za pretragu
Pronađi komplete na eBay-u:
Pretraga na eBay-u

Tražimo ono što vam treba, predlažemo vam ovo, ali vi ste ti ti koji odlučujete

...

Views : 2252