YPR 765

Country
USA
Role
Infantry fighting vehicle
Variants
Dutch
Wars
Yugoslav wars, anti-guerrilla operations in the Philippines, War in Afghanistan
The AIFV (Armored Infantry Fighting Vehicle) is a tracked light armored vehicle that serves as an infantry fighting vehicle (IFV) in the armies of several countries. It is a development of the M113A1 armored personnel carrier. While the US was uninterested in the design, a number of other governments were interested in the vehicle, which was simpler, lighter, and cheaper than the Bradley. After a series of demonstrations and the delivery of four evaluation vehicles in 1974, the Netherlands government placed an order for 880 of the vehicles in 1975, which were designated YPR-765 when they entered service. Some changes were made at the request of the Dutch government, including shifting the weapon station to the right side and moving the commander behind the driver. The Netherlands ordered 2,079, of which 815 were produced locally under license. Under the YPR-2000 program, virtually all Dutch vehicles were upgraded to YPR-765A1 standard and are easily identified by the 3-tone NATO camouflage pattern[clarification needed]. During the war in Afghanistan, several vehicles were fitted with additional armour.
Source:

YPR 765 on Wikipedia
YPR 765 Walk Around
Photographer
Marcel Bouman
Localisation
Unknow
Photos
34
Wait, Searching YPR 765 for you…

Related kits: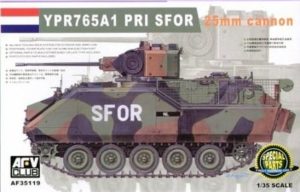 YPR765A1 PRI SFOR 25mm cannon
AFV Club
AF35119
1:35
Full kit
Clic for Search
Find kits on eBay:
Search on eBay
Search for what you need, We suggest this but it is you who decide
You can see also :
Views : 1911