Boeing B-52 Stratofortress

Land
USA
Rolle

Strategische bomber

Erstflug
15. April 1952
Gebaut
744
Die Boeing B-52 Stratofortress ist ein Langstrecken -, Unterschall -, jet-powered strategische bomber. Die B-52 wurde entworfen und gebaut von Boeing, die weiterhin support und upgrades. Es wurde betrieben von der United States Air Force (USAF) seit den 1950er Jahren. Der bomber trägt bis zu 70.000 Pfund (32.000 kg) von Waffen. B-52B/RB-52B : The B-52B was the first version to enter service with the USAF on 29 June 1955 with the 93rd Bombardment Wing at Castle AFB in California. This version included minor changes to engines and avionics, enabling an extra 12,000 pounds of thrust to be produced using water injection. Temporary grounding of the aircraft after a crash in February 1956 and again the following July caused training delays, and at mid-year there were still no combat-ready B-52 crews. Of the 50 B-52Bs built, 27 were capable of carrying a reconnaissance pod as RB-52Bs (the crew was increased to eight in these aircraft). The 300 pound (136 kg) pod contained radio receivers, a combination of K-36, K-38, and T-11 cameras, and two operators on downward-firing ejection seats. The pod required only four hours to install.
Warten Sie, Suchen Boeing B-52 Stratofortress Fotos für Sie...
Boeing B-52 Stratofortress
Fotograf
Unknow
Lokalisierung
Unknow
Fotos
200
Warten Sie, Suchen Boeing B-52 Stratofortress für Sie...
Verwandte kits: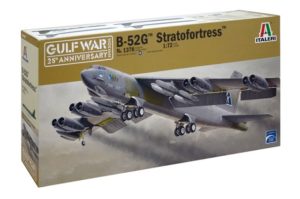 B-52G Stratofortress Golfkrieg 25-jähriges Jubiläum
Italeri
1378
1:72
Full kit
Clic für die Suche
Finden kits auf eBay:
Suche auf eBay
Suche für das, was Sie benötigen, Wir empfehlen dies, aber es ist Ihr, die entscheiden
You can see also :
Boeing NB-52B Stratofortress Walk Around
Fotograf
Vladimir Yakubov
Lokalisierung
Der Edwards Air Force Base
Fotos
Drei und achtzig
Boeing B-52 Stratofortress – WalkAround aus u/PhilTheNet
Views : 1889
Find by:
b-52 walk around
B-52B
walkaround Boeing B-52
B-52 walkarund
boeing b-52
boeing b-52 acft models
boeing b-52 stratofortress walkaround
boeing b52 crashes
Бомбардер Б-52
boeing b52 walkaround
tamiya b-52
B52 walkaround
b52 története
b52 monogram
B-52G walkaround
b-52c stratofortress photos
B-52B pictures
b-52 interior pictures
B 52 Stratofortress Photos
1/72 B-52B