Boeing B-52 Stratofortress

Riik
USA
Roll

Strateegiline pommitaja

Esimese lennu
15 aprill 1952
Ehitatud
744
Euroopa Boeing B-52 Stratofortress on long-range, allahelikiirusega, jet-mootoriga strateegiline pommitaja. B-52 oli projekteeritud ja ehitatud Boeing, mis on jätkuvalt toetada ja uuendamine. Ta on tegutsenud Ameerika Ühendriikide õhujõudude (USAF) alates 1950. aastatest. Pommitaja kannab kuni 70,000 £ (32,000 kg) relvi. B-52B/RB-52B : The B-52B was the first version to enter service with the USAF on 29 June 1955 with the 93rd Bombardment Wing at Castle AFB in California. This version included minor changes to engines and avionics, enabling an extra 12,000 pounds of thrust to be produced using water injection. Temporary grounding of the aircraft after a crash in February 1956 and again the following July caused training delays, and at mid-year there were still no combat-ready B-52 crews. Of the 50 B-52Bs built, 27 were capable of carrying a reconnaissance pod as RB-52Bs (the crew was increased to eight in these aircraft). The 300 pound (136 kg) pod contained radio receivers, a combination of K-36, K-38, and T-11 cameras, and two operators on downward-firing ejection seats. The pod required only four hours to install.
Allikas: Boeing B-52 Stratofortress Wikipedia
Oodake, Otsides Boeing B-52 Stratofortress fotod teie jaoks...
Boeing B-52 Stratofortress
Fotograaf
Unknow
Lokaliseerimine
Unknow
Fotod
200
Oodake, Otsides Boeing B-52 Stratofortress teile...
Seotud komplektid: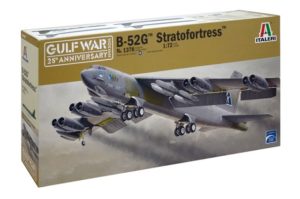 B-52G Stratofortress Lahe Sõda 25. Aastapäeva
Italeri
1378
1:72
Täis komplekt
Clic Otsing
Leia komplektid kohta eBay:
Otsi eBay
Otsida, mida sa vajad, soovitame kuid see on teile, kes otsustab
Näete ka :
Boeing NB-52B Stratofortress Walk Around
Fotograaf
Vladimir Yakubov
Lokaliseerimine
Edwards Air Force Base
Fotod
83
Boeing B-52 Stratofortress – WalkAround alates u/PhilTheNet
Vaatamisi : 1903
Leida:
b-52 walk around
B-52B
walkaround Boeing B-52
B-52 walkarund
boeing b-52
boeing b-52 acft models
boeing b-52 stratofortress walkaround
boeing b52 crashes
Бомбардер Б-52
boeing b52 walkaround
tamiya b-52
B52 walkaround
b52 története
b52 monogram
B-52G walkaround
b-52c stratofortress photos
B-52B pictures
b-52 interior pictures
B 52 Stratofortress Photos
1/72 B-52B