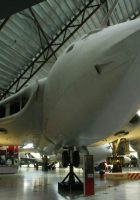 Handley Page Victor

Riik
UK
Tüüp

Jet-powered strategic bomber

Foto
Ondrej Skarka
Leidke
Unknow
Kirjeldus
Album

102

photos walk-around of «Handley Page Victor»
Pildigalerii a Handley Page Victor, The Handley Page Victor is a British jet-powered strategic bomber, developed and produced by the Handley Page Aircraft Company, which served during the Cold War. It was the third and final of the V-bombers operated by the Royal Air Force (RAF), the other two V-bombers being the Avro Vulcan and the Vickers Valiant. The Victor had been developed to perform as part of the United Kingdom's airborne nuclear deterrent. In 1968, the type was retired from the nuclear mission following the discovery of fatigue cracks, which had been exacerbated by the RAF's adoption of a low-altitude flight profile to avoid interception.
Allikas: Handley Page Victor sisse Wiki
Wait, Searching Handley Page Victor photos for you…

Wait, Searching Handley Page Victor for you…

Seotud komplektid:
Handley Page Victor Collection Mks. 1 and 2
1:72
Decalset
Clic Otsing
Great Wall Hobi
Täis komplekt
Clic Otsing
Leia komplektid kohta eBay:
Otsi eBay
Otsida, mida sa vajad, soovitame kuid see on teile, kes otsustab
Näete ka :
Views : 3338