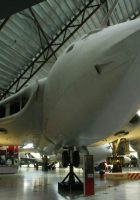 Handley Page Victor

Land
UK
Geben
Jet-powered strategische bomber
Foto
Ondrej Skarka
Suchen
Unknow
Beschreibung
Album

102

Fotos walk-around «Handley Page Victor»
Foto-Galerie Handley Page Victor, The Handley Page Victor is a British jet-powered strategic bomber, developed and produced by the Handley Page Aircraft Company, which served during the Cold War. It was the third and final of the V-bombers operated by the Royal Air Force (RAF), the other two V-bombers being the Avro Vulcan and the Vickers Valiant. The Victor had been developed to perform as part of the United Kingdom's airborne nuclear deterrent. In 1968, the type was retired from the nuclear mission following the discovery of fatigue cracks, which had been exacerbated by the RAF's adoption of a low-altitude flight profile to avoid interception.
Quelle: Handley Page Victor Wiki
Warten Sie, Suchen, Handley Page Victor Fotos für Sie...
Warten Sie, Suchen, Handley Page Victor für Sie...
Verwandte kits:
Handley Page Victor-Sammlung Von Mks. 1 und 2
Xtradecal
X72265
1:72
Decalset
Clic für die Suche
R.A.F. Tanker Victor K. 2
Great Wall Hobby
L1005
1:144
Full kit
Clic für die Suche
Finden kits auf eBay:
Suche auf eBay
Suche für das, was Sie benötigen, Wir empfehlen dies, aber es ist Ihr, die entscheiden
You can see also :
Aufrufe : 2953
Find by:
airfix victor b 2→k 2
Victor walk around