Boeing B-52 Stratofortress

Land
Verenigde staten
Rol

Strategische bommenwerper

Eerste vlucht
15 April 1952
Gebouwd
744
De Boeing B-52 Stratofortress is een lange afstand, subsonic, jet-aangedreven strategische bommenwerper. De B-52 is ontworpen en gebouwd door Boeing, die is doorgegaan tot het verlenen van ondersteuning en upgrades. Het werd gebruikt door de United States Air Force (USAF) sinds de jaren 1950. De bommenwerper draagt maximaal 70.000 pond (32.000 kg) van wapens. B-52B/RB-52B : The B-52B was the first version to enter service with the USAF on 29 June 1955 with the 93rd Bombardment Wing at Castle AFB in California. This version included minor changes to engines and avionics, enabling an extra 12,000 pounds of thrust to be produced using water injection. Temporary grounding of the aircraft after a crash in February 1956 and again the following July caused training delays, and at mid-year there were still no combat-ready B-52 crews. Of the 50 B-52Bs built, 27 were capable of carrying a reconnaissance pod as RB-52Bs (the crew was increased to eight in these aircraft). The 300 pound (136 kg) pod contained radio receivers, a combination of K-36, K-38, and T-11 cameras, and two operators on downward-firing ejection seats. The pod required only four hours to install.
Wacht, Zoeken Boeing B-52 Stratofortress foto ' s voor je...
Boeing B-52 Stratofortress
Fotograaf
Onbekend
Coördinaten
Onbekend
Foto ' s
200
Wacht, Zoeken Boeing B-52 Stratofortress voor u...
Verwante kits: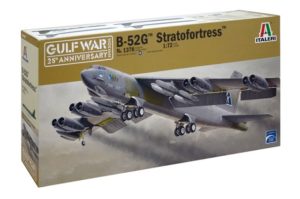 B-52G Stratofortress golfoorlog 25-jarig Jubileum
Italeri
1378
1:72
Volledige kit
Clic voor Zoeken
Pakketten vinden op eBay:
Zoeken op eBay
Zoeken naar wat je nodig hebt, raden We dit maar het is u die besluiten
Je kunt ook zien :
Boeing NB-52B Stratofortress Walk Around
Fotograaf
Vladimir Yakubov
Coördinaten
Edwards Air Force Base
Foto ' s
Tachtig drie
Boeing B-52 Stratofortress – WalkAround van u/PhilTheNet
Uitzicht : 1896
Te vinden door:
b-52 walk around
B-52B
walkaround Boeing B-52
B-52 walkarund
boeing b-52
boeing b-52 acft models
boeing b-52 stratofortress walkaround
boeing b52 crashes
Бомбардер Б-52
boeing b52 walkaround
tamiya b-52
B52 walkaround
b52 története
b52 monogram
B-52G walkaround
b-52c stratofortress photos
B-52B pictures
b-52 interior pictures
B 52 Stratofortress Photos
1/72 B-52B