Kawanishi N1K2

Land
Japan
Type
Marine Land Based Interceptor
Introductie
1943
Gebouwd

1532
Fotogalerij van een Kawanishi N1K2-J, The Kawanishi N1K Kyōfū (強風 "strong wind", Allied reporting name "Rex") was an Imperial Japanese Navy floatplane fighter. The Kawanishi N1K-J Shiden (紫電 "Violet Lightning") was an Imperial Japanese Navy Air Service land-based version of the N1K. Assigned the Allied codename "George", the N1K-J was considered by both its pilots and opponents to be one of the finest land-based fighters flown by the Japanese during World War II. The Shiden Kai possessed heavy armament as well as surprisingly good manoeuvrability, due to a mercury switch that automatically extended the flaps during turns. These "combat" flaps created more lift, thereby allowing tighter turns. Unlike the A6M Zero, the Shiden Kai could compete against the best late-war fighters, such as the F6F Hellcat, the F4U Corsair and P-51 Mustang.
Variants: N1K2-J Prototypes: N1K1-Jb redesigned. Low wings, engine cover and landing gear modified. New fuselage and tail, 8 built. N1K2-J Shiden KAI Model 21: Navy Land Based Interceptor, first model of series with a Nakajima Homare 21 engine. N1K2-Ja Shiden KAI Model 21A: Fighter-bomber version. Four 250 kg bombs. N1K2-K Shiden Kai Rensen 1, Model A: Fighter Trainer, modified from N1K-J Series with two seats, operative or factory conversions.
Bron: Kawanishi N1K2-J op Wiki
Kawanishi N1K2-J
Fotografen

Dick Powers, Dick Powers, Rick Geithmann

Lokalisatie
Onbewust
Foto 's
58
Wait, Searching Kawanishi N1K2 photos for you…

Kawanishi N1K2 Shiden-Kai 'George' Walk Around

Fotograaf
Cees Hendriks
Lokalisatie
Onbewust
Foto 's
62
N1-K George Walk Around
Fotograaf
Onbewust
Lokalisatie
Onbewust
Foto 's
80
Gerelateerde kits: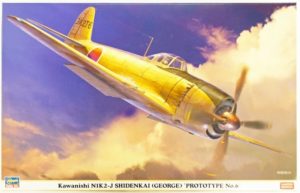 Kawanishi N1K2-J Shidenkai Prototype No.6
Hasegawa
03239
1:32
Volledige uitrusting
Clic voor zoeken
N1K2-Ja Shiden Kai (George) Walk Around
Fotograaf
Michael Benolkin
Lokalisatie
Onbewust
Foto 's
22
Kits zoeken op eBay:
Zoeken op eBay
Zoek naar wat je nodig hebt, we raden dit aan, maar jij bent het die beslist
...
Meer info:
The Kawanishi N1K2 was a Japanese fighter aircraft that saw service in the final stages of World War II. It was an improved version of the N1K1, which had been designed as a floatplane but later converted to a land-based fighter. The N1K2 had a more streamlined fuselage, a lower wing position, and a redesigned tail. These changes improved the aerodynamics, handling, and speed of the aircraft, making it one of the best fighters in the Pacific theater. The N1K2 was armed with four 20 mm cannons and could carry two 250 kg bombs or eight 60 kg rockets. It was also equipped with a self-sealing fuel tank and armor protection for the pilot. The N1K2 was nicknamed "George" by the Allies, who regarded it as a formidable opponent. However, due to production difficulties and shortages of materials and skilled workers, only about 400 N1K2s were built before Japan's surrender in August 1945.
Views : 7937