Boeing B-52 Stratofortress

País
Estados UNIDOS
Papel

Bombardero estratégico

Primer vuelo
El 15 de abril de 1952
Construido
744
El Boeing B-52 Stratofortress es de largo alcance, subsónico, de propulsión a chorro de bombardero estratégico. El B-52 fue diseñado y construido por Boeing, que ha seguido para proporcionar el soporte y las actualizaciones. Ha sido operado por la Fuerza Aérea de Estados unidos (USAF) desde la década de 1950. El bombardero lleva hasta las 70.000 libras (32,000 kg) de armas. B-52B/RB-52B : The B-52B was the first version to enter service with the USAF on 29 June 1955 with the 93rd Bombardment Wing at Castle AFB in California. This version included minor changes to engines and avionics, enabling an extra 12,000 pounds of thrust to be produced using water injection. Temporary grounding of the aircraft after a crash in February 1956 and again the following July caused training delays, and at mid-year there were still no combat-ready B-52 crews. Of the 50 B-52Bs built, 27 were capable of carrying a reconnaissance pod as RB-52Bs (the crew was increased to eight in these aircraft). The 300 pound (136 kg) pod contained radio receivers, a combination of K-36, K-38, and T-11 cameras, and two operators on downward-firing ejection seats. The pod required only four hours to install.
Espera, la Búsqueda del Boeing B-52 Stratofortress fotos para usted...
Boeing B-52 Stratofortress
Fotógrafo
Unknow
Localización
Unknow
Fotos
200
Espera, la Búsqueda del Boeing B-52 Stratofortress para usted...
Relacionados con los kits: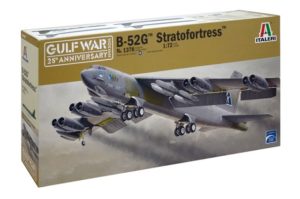 B-52G Stratofortress de la Guerra del Golfo 25 Aniversario
Italeri
Mil trescientos setenta y ocho
1:72
Kit completo
Haz Clic para Buscar
Encontrar kits en eBay:
Búsqueda en eBay
La búsqueda de lo que necesita, sugerimos que este, pero es usted quien decide
Se puede ver también :
Boeing NB-52B Stratofortress Walk Around
Fotógrafo
Vladimir Yakubov
Localización
Edwards Air Force Base
Fotos
Ochenta y tres
Boeing B-52 Stratofortress – WalkAround de u/PhilTheNet
Vistas : 2077
Buscar por:
b-52 walk around
B-52B
walkaround Boeing B-52
B-52 walkarund
boeing b-52
boeing b-52 acft models
boeing b-52 stratofortress walkaround
boeing b52 crashes
Бомбардер Б-52
boeing b52 walkaround
tamiya b-52
B52 walkaround
b52 története
b52 monogram
B-52G walkaround
b-52c stratofortress photos
B-52B pictures
b-52 interior pictures
B 52 Stratofortress Photos
1/72 B-52B