Boeing B-52 Stratofortress

Pays
États-unis
Rôle

Bombardier stratégique

Premier vol
15 avril 1952
Construit
744
L' Boeing B-52 Stratofortress est un de longue portée, en subsonique, propulsé par bombardier stratégique. Le B-52 a été conçu et construit par Boeing, qui a continué à fournir un soutien et des mises à niveau. Il a été exploité par l'United States Air Force (USAF) depuis les années 1950. L'auteur de l'attentat transporte jusqu'à 70 000 livres (32 000 kg) des armes. B-52B/RB-52B : The B-52B was the first version to enter service with the USAF on 29 June 1955 with the 93rd Bombardment Wing at Castle AFB in California. This version included minor changes to engines and avionics, enabling an extra 12,000 pounds of thrust to be produced using water injection. Temporary grounding of the aircraft after a crash in February 1956 and again the following July caused training delays, and at mid-year there were still no combat-ready B-52 crews. Of the 50 B-52Bs built, 27 were capable of carrying a reconnaissance pod as RB-52Bs (the crew was increased to eight in these aircraft). The 300 pound (136 kg) pod contained radio receivers, a combination of K-36, K-38, and T-11 cameras, and two operators on downward-firing ejection seats. The pod required only four hours to install.
Attendez, la Recherche Boeing B-52 Stratofortress photos pour vous...
Boeing B-52 Stratofortress
Photographe
Unknow
Localisation
Unknow
Photos
200
Attendez, la Recherche Boeing B-52 Stratofortress pour vous...
Liées kits: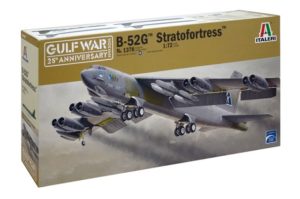 B-52G Stratofortress Guerre du Golfe 25e Anniversaire
Italeri
1378
1:72
Kit complet
Clic pour la Recherche
Trouver des kits sur eBay:
Recherche sur eBay
À la recherche de ce dont vous avez besoin, Nous vous suggérons de cela, mais c'est vous qui décidez
Vous pouvez voir aussi :
Boeing NB-52B Stratofortress Walk Around
Photographe
Vladimir Yakubov
Localisation
La Edwards Air Force Base
Photos
83
Boeing B-52 Stratofortress – WalkAround à partir de u/PhilTheNet
Vues : 1899
Rechercher par:
b-52 walk around
B-52B
walkaround Boeing B-52
B-52 walkarund
boeing b-52
boeing b-52 acft models
boeing b-52 stratofortress walkaround
boeing b52 crashes
Бомбардер Б-52
boeing b52 walkaround
tamiya b-52
B52 walkaround
b52 története
b52 monogram
B-52G walkaround
b-52c stratofortress photos
B-52B pictures
b-52 interior pictures
B 52 Stratofortress Photos
1/72 B-52B