Gloster Javelin

Land
UK
Rolle
All-weather fighter/interceptor
Erstflug
26. November 1951
Gebaut
436
Die Gloster Javelin is a twin-engined T-tailed delta-wing subsonic night and all-weather interceptor aircraft that served with Britain's Royal Air Force from the mid-1950s until the late 1960s. The last aircraft design to bear the Gloster name, it was introduced in 1956 after a lengthy development period and received several upgrades during its lifetime to its engines, radar and weapons, including support for the De Havilland Firestreak air-to-air missile. The Javelin was succeeded in the interceptor role by the English Electric Lightning, a supersonic aircraft capable of flying at more than double the Javelin's top speed, which was introduced into the RAF only a few years later. The Javelin served for much of its life alongside the Lightning; the last Javelins were withdrawn from operational service in 1968 following the introduction of successively more capable versions of the Lightning.
Quelle: Gloster Javelin auf Wikipedia
Warten Sie, Suche Gloster Javelin für Sie...
Gloster Javelin FAW9 herumlaufen
Fotografen
Cees Hendriks
Lokalisierung
Unknow
Fotos
43
Warten Sie, Suche Gloster Javelin für Sie...
Verwandte kits: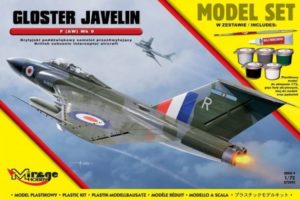 Gloster Javelin F (AW) Mk 9 Modell-Set
Mirage Hobby
872093
1:72
Full kit
Clic für die Suche
Finden kits auf eBay:
Suche auf eBay
Suche für das, was Sie benötigen, Wir empfehlen dies, aber es ist Ihr, die entscheiden
You can see also :
Aufrufe : 716