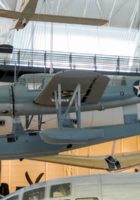 Vought OS2U Kingfisher

País
Estados UNIDOS
Papel
Observación hidroavión
Primer vuelo
1938
Construido
1519
El Vought OS2U Kingfisher was an American catapult-launched observation floatplane. It was a compact mid-wing monoplane, with a large central float and small stabilizing floats. Performance was modest, because of its light engine. The OS2U could also operate on fixed, wheeled, taildragger landing gear. The OS2U was the main shipboard observation aircraft used by the United States Navy during World War II, and 1,519 of the aircraft were built. It served on battleships and cruisers of the US Navy, with the United States Marine Corps in Marine Scouting Squadron Three (VMS-3), with the United States Coast Guard at coastal air stations, at sea with the Fleet Air Arm of the Royal Navy, and with the Soviet Navy. The Royal Australian Air Force also operated a few Kingfishers from shore bases.
Espera, Buscando Vought OS2U Kingfisher para usted...

Vought OS2U-3 Kingfisher Walk Around
Fotógrafo
Vladimir Yakubov
Localización
National Air & Space Museum
Fotos
100
Espera, Buscando Vought OS2U Kingfisher para usted...

Vought OS2U Kingfisher
por Net-Maquetas
Relacionados con los kits: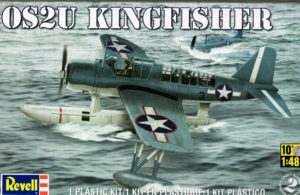 OS2U Kingfisher
Revell
85-5260
1:48
Kit completo
Haz Clic para Buscar
Encontrar kits en eBay:
Búsqueda en eBay
La búsqueda de lo que necesita, sugerimos que este, pero es usted quien decide
Se puede ver también :
Puedes comentar aquí :
Vought OS2U Kingfisher – Caminar de NetMaquettes
Vistas : 1668