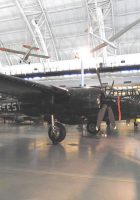 Northrop P-61 Black Widow

País
Estados UNIDOS
Papel
Caza nocturno
Primer vuelo
26 de Mayo de 1942
Construido
706
El Northrop P-61 Black Widow, named for the American spider, was the first operational U.S. warplane designed as a night fighter, and the first aircraft designed to use radar. The P-61 had a crew of three: pilot, gunner, and radar operator. It was armed with four 20 mm (.79 in) Hispano M2 forward-firing cannons mounted in the lower fuselage, and four .50 in (12.7 mm) M2 Browning machine guns mounted in a remote-controlled dorsal gun turret. It was an all-metal, twin-engine, twin-boom design developed during World War II. The first test flight was made on May 26, 1942, with the first production aircraft rolling off the assembly line in October 1943. The last aircraft was retired from government service in 1954.
Espera, Buscando Northrop P-61 Black Widow fotos para usted...

Northrop P-61 C de la Viuda Negra Caminar Alrededor de
Fotógrafo
Cees Hendriks
Localización
Unknow
Fotos
105
Espera, Buscando Northrop P-61 Black Widow...

Relacionados con los kits:
Northrop P-61A w/Suelo armas de Ataque y Droptanks
La Gran Muralla De La Afición
S4807
1:48
Kit completo
Haz Clic para Buscar
Northrop P-61B Black Widow Walk Around

Fotógrafo
Proyecto De Ley De Maloney
Localización
Unknow
Fotos
24
Encontrar kits en eBay:
Búsqueda en eBay
La búsqueda de lo que necesita, sugerimos que este, pero es usted quien decide
Se puede ver también :
Northrop P-61C Black Widow Walk Around
Fotógrafo
Vladimir Yakubov
Localización
Museo nacional de la fuerza aérea
Fotos
62
P-61C Black Widow Walk Around
Fotógrafo
Phillip Juvet
Localización
Unknow
Fotos
48
Northrop P-61 Black Widow – Caminar de NetMaquettes
Vistas : 3674
Buscar por:
Bilek (Dragon) (805) P-61B
gifts p-61 black widow
streamxv7