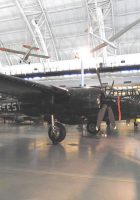 Northrop P-61 Must Lesk

Riik
USA
Roll
Öö võitleja
Esimese lennu
26. Mail 1942
Ehitatud
706
Euroopa Northrop P-61 Must Lesk, named for the American spider, was the first operational U.S. warplane designed as a night fighter, and the first aircraft designed to use radar. The P-61 had a crew of three: pilot, gunner, and radar operator. It was armed with four 20 mm (.79 in) Hispano M2 forward-firing cannons mounted in the lower fuselage, and four .50 in (12.7 mm) M2 Browning machine guns mounted in a remote-controlled dorsal gun turret. It was an all-metal, twin-engine, twin-boom design developed during World War II. The first test flight was made on May 26, 1942, with the first production aircraft rolling off the assembly line in October 1943. The last aircraft was retired from government service in 1954.
Allikas: Northrop P-61 Must Lesk Wikipedia
Oodake, Otsides Northrop P-61 Must Lesk fotod teie jaoks...

Northrop P-61C Must Lesk Jalutada
Fotograaf
Cees Hendriks
Lokaliseerimine
Unknow
Fotod
105
Oodake, Otsides Northrop P-61 Must Lesk teile...

Seotud komplektid:
Northrop P-61A w/Maa Rünnak relvade & Droptanks
Great Wall Hobi
S4807
1:48
Täis komplekt
Clic Otsing
Leia komplektid kohta eBay:
Otsi eBay
Otsida, mida sa vajad, soovitame kuid see on teile, kes otsustab
Näete ka :
Northrop P-61C Black Widow Walk Around
Fotograaf
Vladimir Yakubov
Lokaliseerimine
National Museum USAF
Fotod
62
P-61C Black Widow Walk Around
Fotograaf
Phillip Juvet
Lokaliseerimine
Unknow
Fotod
48
Northrop P-61 Must Lesk – Jalutada alates NetMaquettes
Views : 2625
Leida:
Bilek (Dragon) (805) P-61B
gifts p-61 black widow