Cessna L-19 Bird Dog

Zemlja
Sad
Ulogu

Observation aircraft

Proizvodi

14 December 1949

Izgradio

3431
The Cessna L-19/O-1 Bird Dog was a liaison and observation aircraft. It was the first all-metal fixed-wing aircraft ordered for and by the United States Army since the U.S. Army Air Forces separated from the Army in 1947, becoming its own branch of service, the United States Air Force. The Bird Dog had a lengthy career in the U.S. military, as well as in other countries.
Cessna L-19 Bird Dog Walk Around

Fotografi
Cees Hendriks
Lokalizacija
Nepoznato
Fotografije
65
Wait, Searching Cessna L-19 Bird Dog for you…

Srodni kompleti: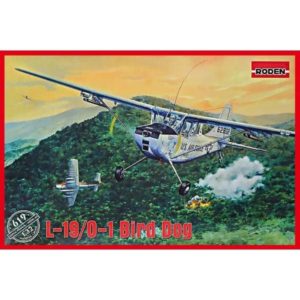 Roden
1:32
Kompletan komplet
Clic za pretragu
O-1 Bird Dog Walk Around
Fotograf
Fotios Rouch
Lokalizacija
Nepoznato
Fotografije
26
Pronađi komplete na eBay-u:
Pretraga na eBay-u
Tražimo ono što vam treba, predlažemo vam ovo, ali vi ste ti ti koji odlučujete
Možete videti i :
Cessna O-1E Bird Dog Walk Around
Fotograf
Vladimir Jakubov
Lokalizacija

Planes of Fame Air Show

Fotografije
52
Find items about "Cessna" on AliExpresS (c):
Views : 2934