Saab 37 Viggen

Country
Sweden
Role
Attack, fighter, reconnaissance
First flight
8 February 1967
Built
329
The Saab 37 Viggen ("Thunderbolt") is a retired Swedish single-seat, single-engine, short-medium range combat aircraft. Development work on the type was initiated at Saab in 1952 and, following the selection of a radical delta wing configuration, the resulting aircraft performed its first flight on 8 February 1967 and entered service in 21 June 1971. The Viggen holds the distinction of being the first canard design to be produced in quantity. The Viggen was also the most advanced fighter jet in Europe until the introduction of the Panavia Tornado into operational service in 1981
Source: Saab 37 Viggen on Wikipedia
SAAB AJ.37-1 prototype Walk Around
Photographer
Vladimir Yakubov
Localisation
Unknow
Photos
85
Wait, Searching Saab 37 Viggen for you…

Find kits on eBay:
Search on eBay
Search for what you need, We suggest this but it is you who decide
SK 37 Viggen proto Walk Around
Photographer
Unknow
Localisation
Unknow
Photos
64
...
Saab 37 Viggen SKE Walk Around
Photographer
Unknow
Localisation
Unknow
Photos
20
Related kits: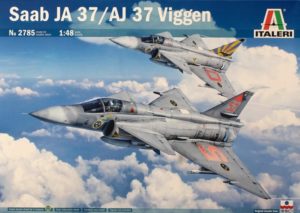 Saab JA 37/AJ 37 Viggen
Italeri
72031
1:48
Full Kit
Clic for Search
More info:
The Saab 37 Viggen was a multirole combat aircraft developed and produced by Sweden in the 1960s and 1970s. It had a distinctive design with a delta wing and a canard foreplane, as well as a thrust reverser that enabled it to land on short runways. The Viggen was capable of performing various missions, such as fighter-bomber, reconnaissance, maritime patrol and interceptor. It was the first canard aircraft to enter operational service and the most advanced fighter in Europe until the introduction of the Panavia Tornado. The Viggen served exclusively with the Swedish Air Force until its retirement in 2007, when it was replaced by the Saab JAS 39 Gripen.
Views : 2605