SAAB 340 AEW

Country
Sweden
Role
AEW&C aircraft
First flight
1994
Built
12
The Saab 340 AEWC is a Swedish airborne early warning and control (AEW&C) aircraft; a variant of the Saab 340 aircraft is designated S 100B Argus by the Swedish Air Force. Variants: Saab 340B AEW / S 100B Argus (FSR-890) Erieye, for the Thai Air Force. Saab 340B AEW-200 (IS-340) Erieye Saab 340B AEW-300 / S 100D Argus
Source: SAAB 340 AEW on Wikipedia
SAAB 340 AEW Walk Around
Photographer
Unknow
Localisation
Unknow
Photos
26
Wait, Searching SAAB 340 AEW for you…

Find kits on eBay:
Search on eBay
Search for what you need, We suggest this but it is you who decide
...
Related kits: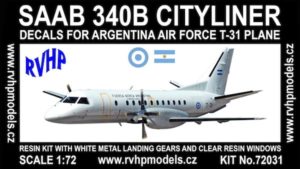 Saab 340B Cityliner Argentina T-31
RVHP
72031
1:72
Full Kit
Clic for Search
More info:
The SAAB 340 AEW is an airborne early warning and control (AEW&C) aircraft developed by SAAB and Ericsson Microwave Systems (now Saab Electronic Defence Systems). It is based on the SAAB 340 regional airliner, modified to carry a large rotating radar dome above the fuselage. The radar provides 360-degree coverage and can detect and track air and sea targets at long ranges. The SAAB 340 AEW can also perform command and control, intelligence, surveillance and reconnaissance (C2ISR) missions, using its advanced communication and data link systems. The aircraft has a crew of six, including two pilots and four mission system operators. The SAAB 340 AEW is in service with the Swedish Air Force, the Royal Thai Air Force and the United Arab Emirates Air Force.
Views : 801