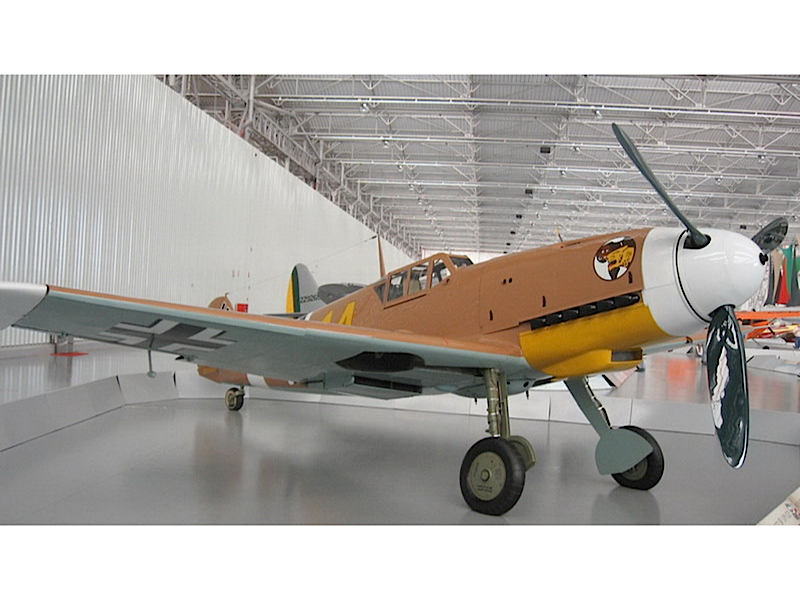 Messerschmitt Bf 109G-2

Pays
Germany
Type
Single-engine fighter
Description

Album de

68

walk-around photos of the

Messerschmitt Bf 109G-2
Galerie photo sur un Messerschmitt Bf 109G-2, Le Messerschmitt Bf 109 est un chasseur monomoteur monoplace allemand conçu dans les années 1930 par l'ingénieur allemand Willy Messerschmitt en réponse à un appel d'offre du Reichsluftfahrtministerium (RLM) pour la conception d'un chasseur moderne devant équiper la Luftwaffe naissante. Autour du moteur le plus puissant disponible, un Junkers Jumo 210 à 12 cylindres en V inversé, Messerschmitt dessina la cellule la plus fine possible, reprenant des techniques très novatrices qu'il avait développées pour l'avion léger Bf 108. Le prototype Bf 109, supérieur à ses concurrents, fut finalement choisi, malgré l'inimitié du ministre de l'Air, Erhard Milch, envers Messerschmitt. Suite à sa participation à la guerre d'Espagne, le Bf 109 fut remotorisé par un moteur Daimler Benz pour pratiquer de façon encore plus efficace les nouvelles tactiques de combat aérien qu'il avait permis de mettre au point.
Source: Bf 109G sur Wikipedia
Wait, Searching Messerschmitt Bf 109G-2 photos for you…

Technical features: Équipage : 1 pilote Longueur : 9,04 m Largeur : 9,92 m Surface alaire : 16,165 m² Poids à vide : 2676 kg Vitesse de croisière : 544 km/h au niveau de la mer Vitesse maximale : 623 km/h à 7000 m Plafond : 12116 m Rayon d'action : 560 km Armement Interne : 1 MG 151/20 de 20 mm (200 coups) Armement Externe : 2 MG 131 de 13 mm (300 coups)
Related kits:
Find kits on eBay:
Search on eBay
Search for what you need, We suggest this but it is you who decide
You can see also :
Views : 6814