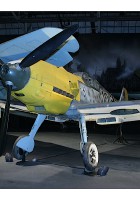 Messerschmitt Me-109E

Country
Germany
Category
Military aircraft
Type
Single-engined fighter
Galerie photo sur un Messerschmitt Me-109E, Le Messerschmitt Bf 109 souveny nommé Me-109 is a single-engined fighter single-seat German designed in the 1930s by the German engineer Willy Messerschmitt in response to a call for tender of the Reichsluftfahrtministerium (RLM) for the design of a fighter modern to equip the Luftwaffe nascent. Around the most powerful engine available, a Junkers Jumo 210 to 12-cylinder inverted V, Messerschmitt designed the cell as thin as possible, incorporating techniques that were very innovative that he developed for the light aircraft Bf 108. The prototype Bf 109, superior to its competitors, was finally chosen, despite the enmity of the minister for Air, Erhard Milch towards Messerschmitt.
Wait, Searching Messerschmitt Me-109E photo for you...

Messerschmitt Me-109E
Photographer
Unknow
Location
Unknow
Photos
51
Wait, Searching Messerschmitt Me-109E for you...

Technical characteristics : Crew : 1 pilot Length : 9,04 m Width : 9,92 m Wing area : 16,165 m2 Empty weight : 2676 kg Cruise speed : 544 km/h at sea level Maximum speed : 623 km/h at 7000 m Ceiling : 12116 m Action radius : 560 km Internal armament : 1 MG 151/20 of 20 mm (200 shots) Armament : 2 MG 131 of 13 mm (300 shots)
Messerschmitt Bf 109E-3 Walk Around
Photographer
Max Otten
Location
Unknow
Photos
38
Related kits: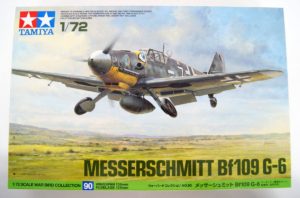 Messerschmitt Bf109 G-6 CH
Tamiya
1:72
Clic for Search
Messerschmitt Bf 109E-4
Airfix
A50176
1:24
Full kit
Clic for Search
Find kits on eBay:
Search on eBay
Search for what you need, We suggest this but it is you who decide
You can see also :
Messerschmitt Me-109E – Walk Around from Net maquettes
Views : 4380
Find by:
me 109e walkaround
bf109 walkaround
walkaround me109E
me 109e
me 109 walk around
Messerschmitt BF 109 walk around
walkaround bf109e
me 109
Bf109 walk around
Me109e
me109e walkaround
ME 109 E
me 109 bewapening
messerschmitt 109 plans
me 109e walk around
me-109h pics
me-109 walkaround
messerschmitt bf 109 photo
messerschmitt bf 109g-14
bf109 technická dokumentace