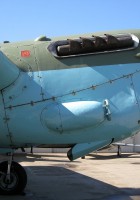 Casa C. 2111

Country
Spain
Category
Military aircraft
Type
Bombardier
Description

Album

36

photos walk-around of the bombardier Casa C. 2111
Photo gallery on a Casa C. 2111, The CASA 2.111 was the version of the German bomber Heinkel 111 construite en Espagne . Pendant la guerre d'Espagne (1937) l'Italie et l'Allemagne équipèrent en matériel militaire les troupes du général Franco dont des bombardiers Heinkel 111D équipés de moteurs Junkers Jumo 211. A la fin de la Seconde Guerre mondiale un développement sous licence du Heinkel 111 nommé CASA 2.111 was put into production (111 being the reminder to the German benchmark of this plane).
Source: Casa C. 2111 on Wikipedia
Wait, Searching Casa C. 2111 photos for you...

Wait, Searching Casa C. 2111 for you...

Related kits:
Find kits on eBay:
Search on eBay
Search for what you need, We suggest this but it is you who decide
You can see also :
You can comment here :
Casa C.2111 vol2 – WalkAround from u/PhilTheNet
Views : 1024
Find by:
CASA 2111
HE111 WALKAROUND
aviones casa c-2111 en españa
avion casa 2111
Casa C2111
CasaC 2111vol2-WalkAround-Photographies
conversion casa 2111
CASA C-2 111 walk around
Casa C-2 111
Hakusanalla:GuerreDEspagne
casa c 2111 decals 1/48
Casa 2111 kit
casa 2111 conversion kit
casa 2111 1/48
Casa 2 111 history
bristol blenheim mk 1
2T111-1 airborne kit
1:32 casa heinkel conversion set
1/48 casa2111用キット
хеинкел 111