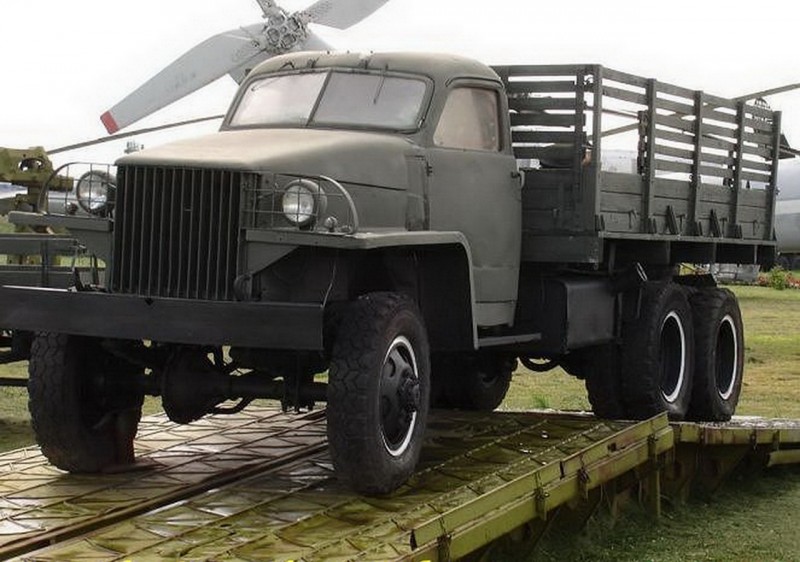 Studebaker US6

Pays
USA
Type
Truck
Photo Gallery on a Studebaker US6, Made by Studebaker The Studebaker US6 ( M16A ) est un camion de classe 2,5t de la seconde Guerre mondiale. Sa production a commencée aux USA à partir de 1941 et s'est achevée en 1945 alors qu'elle a débutée en 1942 en URSS. Le US6 eu un Hercules du moteur à essence construits à six cylindres qui produit 94 chevaux (70 kW), avec une transmission à cinq vitesses, plus une à deux vitesses boîte de transfert . La production a été divisée entre Gmc Production trucks for the U.S. Army, Studebaker Corporation production of 2.5 tons for leasing trucks, and International Harvester producing for the U.S. Navy and Marines. Three major manufacturers produced more than 900,000 trucks of 2.5 tons in total, in both 6×4 and 6×6 axle/wheel versions, with about 200,000 trucks Studebaker 13-year-olds, including a dump truck and tractor models.
Source: Studebaker US6 on Wikipedia
Studebaker US6
Photographer
Unknow
Localisation
Unknow
Photos
36
Wait, Searching Studebaker US6 photos for you...

Related kits:
Studebaker US6 U4 WWII Army Truck
Icm
35514
1:35
Full kit
Clic for Search
Find kits on eBay:
Search on eBay

Search for what you need, We suggest this but it is you who decide

...

Views : 4029