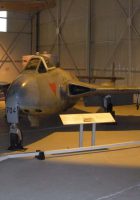 de Havilland DH112 Gif

Land
VERZENDING
Type
Eenmotorige jet
Foto
Randy Ray
Zoek
Royal Air Force Museum Cosford, verenigd koninkrijk
Beschrijving
Album

20

foto ' s walk-around "de Havilland DH112 Venom"
Foto galerij van een de Havilland DH112 Gif, The de Havilland DH 112 Venom was a British postwar single-engined jet aircraft developed from the de Havilland Vampire. It served with the Royal Air Force as a single-seat fighter-bomber and two-seat night fighter. The Venom was an interim between the first generation of British jet fighters – straight-wing aircraft powered by centrifugal flow engines such as the Gloster Meteor and the Vampire and later swept wing, axial flow-engined designs such as the Hawker Hunter and de Havilland Sea Vixen. The Venom was successfully exported, and saw service with Iraq, New Zealand, Sweden, Switzerland and Venezuela. The Sea Venom was a navalised version for carrier operation.
Wacht, Zoeken de Havilland DH112 Gif foto ' s voor je...
Wacht, Zoeken de Havilland DH112 Gif voor je...
Verwante kits:
Pakketten vinden op eBay:
Zoeken op eBay
Zoeken naar wat je nodig hebt, raden We dit maar het is u die besluiten
Je kunt ook zien :
Views : 1286
Te vinden door:
dh venom walkaround
de havilland vampire schweiz
Havilland DH 112 Venom
sea venom walkaround