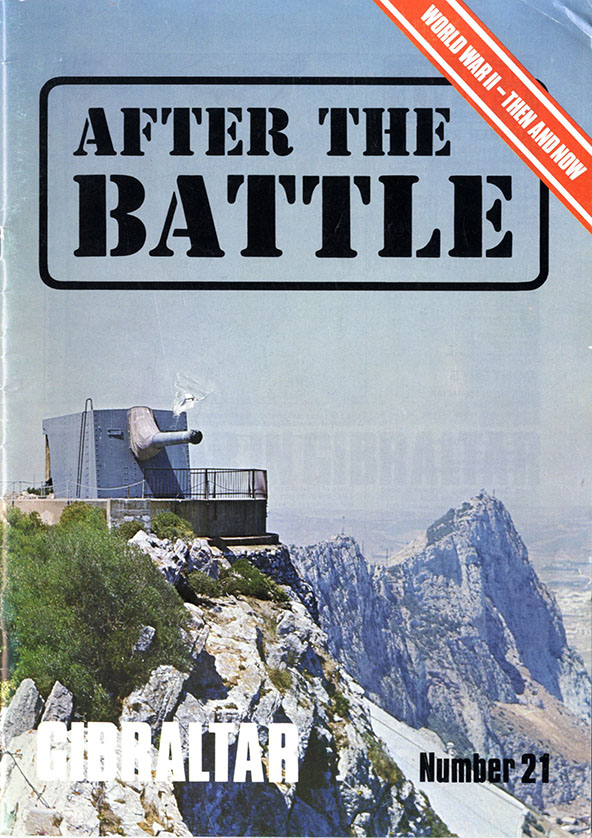 Gibraltar

Publisher

Histoire & Collections

Series

Batailles

Period

World War II

Réf
021
A signed book After The Battle le livre «Gibraltar – After The Battle 021».
Les British Forces Gibraltar sont chargé de la défense de ce site stratégique. La british army est représenté par le Régiment royal de Gibraltar, à l'origine une force de réserve qui a été placée sur l'établissement permanent de l'armée britannique en 1990. Le régiment comprend des soldats à plein temps et à temps partiel recrutés sur place, ainsi que des militaires de carrière britanniques en provenance d'autres régiments. La marine royale maintient un escadron. L'escadron est responsable de la sécurité et de l'intégrité des eaux territoriales britanniques de Gibraltar (BGTW). La base est appelée Rooke par les habitants de Gibraltar en l'honneur de George Rooke qui s'est emparé du rocher au détriment de l'archiduc Charles (prétendant au trône espagnol) en 1704. Elle est une base importante pour l'OTAN, les sous-marins nucléaires britanniques et des États-Unis s'y ravitaillant fréquemment. Les bateaux de la marine espagnole ne se ravitaillent cependant pas à cet endroit. La base de la Royal Air Force (RAF) à Gibraltar fait partie du Régiment royal de Gibraltar. Bien que les avions ne soient pas de manière permanente postés à Gibraltar, de nombreux avions de la RAF font des visites régulières. On pense que le rocher est une base d'écoute de ROEM pour les télécommunications en direction de l'Afrique du Nord, et en raison de son emplacement stratégique elle reste toujours une base principale pour la NSA et pour le Government Communications Headquarters.
Source: Wikipedia
Wait, Searching After The Battle 021 for you…

Find kits on eBay:
Search on eBay
Search for what you need, We suggest this but it is you who decide
Find items about "Gibraltar" on AliExpresS :
You can see also :
Related kits:
Views : 550