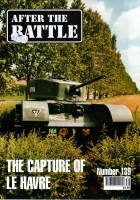 After The Battle

Série
After The Battle
Sujet

La prise du Havre

Période
Seconde guerre mondiale
Réf
139
Un livre signé After The Battle la revue «La Prise du Havre – After The Battle 139».
L'opération Astonia fut une bataille menée du 10 au 12 septembre 1944 durant l'avance des Alliés de Paris au Rhin, pendant la Seconde Guerre Mondiale. L'objectif des Alliés était la capture du port du Havre, occupé par les forces allemandes. L'attaque de cette place forte, alors décrite par le Field Marshal Bernard Montgomery comme "l'une des plus fortifiées du Mur de l'Atlantique, consista en une combinaison d'éléments tant des forces armées canadiennes que britanniques, avec la participation d'unités navales et aériennes, qui fut qualifiée de "modèle d'opération combinée" grâce à la victoire en seulement trois jours après le premier assaut.
Source: Wikipedia
Wait, Searching After The Battle 139 for you…
Wait, Searching Le Havre 1944 for you…
You can see also :
Views : 221
Find by:
couleurs sd kfz 222 dak
After the Battle - 139 - The Capture of Le Havre
batalla de astonia
captura del puerto de le havre 1944
operation astonia havre
захват гавра