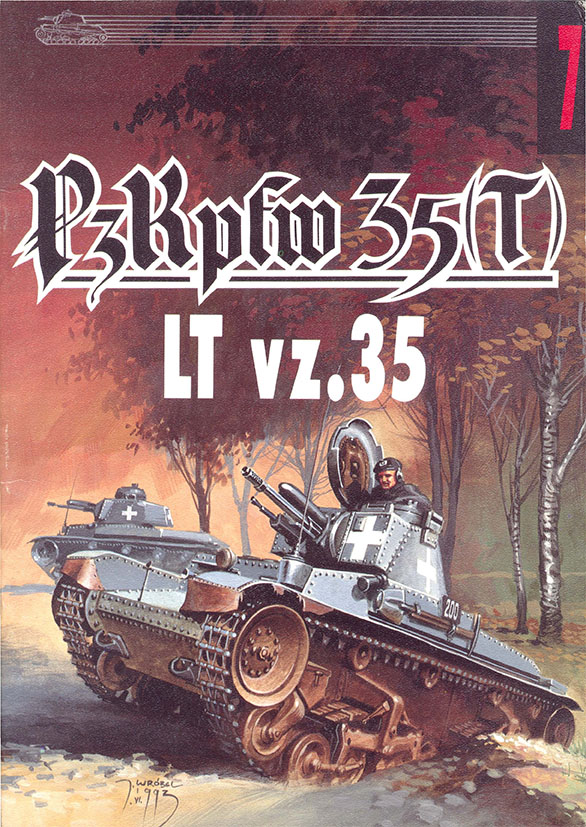 Publisher Militaria

Serie
Publisher Militaria
Réf
007
Période
Seconde guerre mondiale
Subject
PzKpfw 35(t)
A documentation signed Publisher Militaria le livre "the PzKpfw 35(t) – wydawnictwo Militaria 007" .
Les chars LT vz 35 are used by the czechoslovak army from 1937 to 1939. But in all 219 tanks LT vz 35 are captured by Germany in march 1939 and used by the Wehrmacht during the Second world War. They are first of all employees, from the June 5, 1939, by the cavalry under the name LTM 35. But after the 16 January 1940, they fall under the control of the Panzertruppe, German armored units, under the name of Panzer 35(t), the letter " t " indicating their origin in czechoslovakia. The 6th Panzer division (which, at the time, was still called the 1st light division of cavalry) was equipped at the beginning of the war, and the tanks were used in Poland in 1939 and France in 1940. But from 1940, there are more parts and tanks must be completely rebuilt to remain operational ; therefore, it was decided that the campaign of the summer of 1941 will be their last. In addition, the Panzer 35(t) prove to be totally inadequate in the face of the extreme cold encountered in the USSR. At the end of November 1941, most a single one is operational. These weaknesses, in addition to the thinness of their armour, and the low caliber of their cannon in the face of soviet tanks, because most are removed from the front and the 26 that are still operating in 1942 were sold to Romania. The char continues to serve a year in Slovakia and Romania. Some are then processed by Germany in carriers or tractors of ammunition.
Source: Wikipedia
Wait, Searching Wydawnictwo Militaria 007 for you…

Wait, SearchingPzKpfw 35(t) for you…

[AFG_gallery lestags='panzer-35t']
You can see also :
Find items about "PzKpfw 35(t)" on AliExpress:
Views : 179