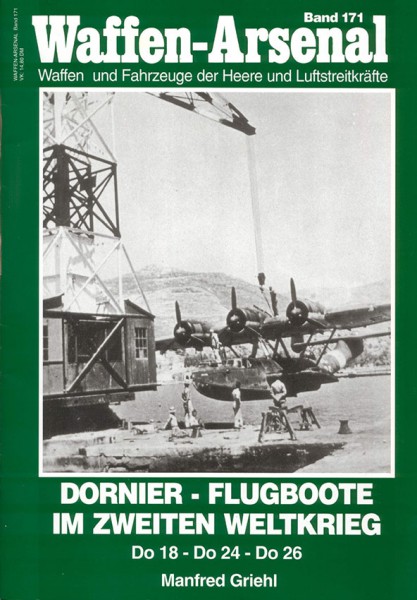 Waffen Arsenal

Series
Waffen Arsenal
Sujet

Dornier Do 18 – Up to 24 – Up to 26

Réf
171
Signed documentation Waffen Arsenal la revue «Dornier Do 18 – Up to 24 – Up to 26 – Waffen Arsenal 171» .
Le Dornier Do 24 est un hydravion allemand de la Seconde Guerre mondiale. Le trimoteur Do 24, qui reprenait la formule en vogue de l'hydravion à aile parasol (une aile suspendue au-dessus de l'avion par des mats), effectua son premier vol en juillet 1937 ; un accord de fabrication sous licence fut peu après conclu avec les Hollandais. Un petit nombre de Do 24K construits en Allemagne furent livrés à la Luftwaffe. La production de l'appareil aux Pays-Bas se poursuivit après l'invasion du pays par les Allemands ; elle fut également assurée en France occupée par la CAMS. Les Do 24 assurèrent principalement des missions de sauvetage en mer (Do 24N-1), de reconnaissance maritime et de transport (Do 24T-1 et T-2). Certains appareils parmi les 255 construits terminèrent leur carrière au sein de la RAAF, de la force aérienne suédoise, du service de sauvetage en mer espagnol ou de la Marine française. À partir de juillet 1941, la France fut contrainte de faire fabriquer par la SNCAN à Sartrouville 6 avions par mois. Elle en fabriqua au total 46 pour la Luftwaffe. Après la libération, elle continua à en fabriquer pour l'Aéronavale qui en utilisa 40 entre la fin de 1944 et septembre 1953.
Source: Wikipedia
Wait, Searching Waffen Arsenal 171 for you…

Wait, Searching Dornier Do 18 for you…

Views : 996