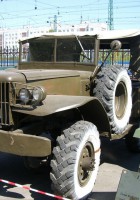 Dodge WC51

Country
USA
Type
Light truck
Description

Album

169

photos walk-around du «Dodge WC51»
The range of Dodge WC est une série de camions militaires légers produite par la société Dodge durant la Seconde Guerre mondiale. Cette gamme comprenait des weapon carriers (littéralement transporteurs d'armes), des camions d'installation téléphonique, des ambulances, des véhicules de reconnaissance, des ateliers mobiles et des voitures de commandement. Ils furent remplacés après la guerre par la série M fabriquée par cette même société. Le sigle WC est un code du fabricant signifiant : W pour l'année 1941 et C pour la gamme des half-ton. Le code C fut également retenu pour les gammes Dodge 6×6 ¾ ton et 1 ½ ton.
Source: Dodge WC51 on Wikipedia
Wait, Searching Dodge WC51 photos for you...
Wait, Searching Dodge WC51 for you...
Related kits:
Find kits on eBay:
Search on eBay
Search for what you need, We suggest this but it is you who decide
You can see also :
You can comment here :
Dodge WC51 – WalkAround from u/PhilTheNet
Views : 2888
Find by:
dodge wc 51
dodge wc 52 vendo
dodge wc-51 walkaround
dodge militare vendita
ダッジwc51
wc62 pintle hitch
dodge wc51
dodge 3/4 ton seconda guerra mondiale
wc56 walkaround
Dodge WC-56 walkaround
Dodge starter wc 52
dodge wc52 usato vendita
autocarri militari dodge seconda guerra mondiale
AFV club AF35S15 Dodge WC51 3/4T WEAPONS CARRIER инструкция
dodge wc-51
katonai dodge
dodge ambulanza wc vendita
道奇在建
dodge 3/4
deler tiøl dodge wc 51